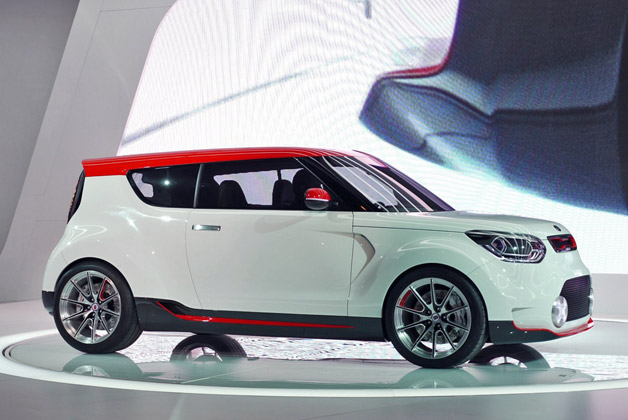 For a long time Kia was thought of as a nice economical alternative, a practical choice for the non-status image concerned.  The fact is that for a long time this was a true statement, but in recent months with new concept releases and the hiring of all star world class auto designers, Kia is rapidly and dramatically turning the tide on not only their product line, but also the way in which the public perceives their name.  The recent unveiling of the Kia Trackster Concept at the 2012 Chicago Auto Show is adding fuel to the fire that is rocketing Kia to a highly respected and original brand name, a stand out in the automotive industry.
The Trackster almost looks exactly how you would imagine it to look, like a track and field athlete: Aggressive, intimidating, yet smooth and smart looking from every angle.
"The idea was to make the Track'ster tough looking, like a bulldog," said Tom Kearns, chief designer for KMA. "But the car had to be approachable as well. We wanted to base the car in reality so people instantly knew it was a Soul, but with a lot of attitude. It had to be a bold interpretation that would change people's conceptions of what a sporty Kia could be."
In addition to having a luxury 'cockpit' like interior and a sleek/smart/aggressive exterior, Kia has sparred no expertise in making sure that this car packs some solid heat under the hood.  The concept Trackster shown in Chicago comes equipped with a turbocharged 2.0-liter four-cylinder producing 250 horsepower that gets dissected by a six-speed short throw manual transmission and further divided among all four 19-inch wheels by an all-wheel-drive system.
While their is no word as to when Phoenix Valley automotive enthusiasts can expect to see the Trackster Concept turned into a reality on Phoenix Valley lots, one can exect to see a good deal of Trackster influence, based upon present customer feedback, on the next generation Kia Soul.