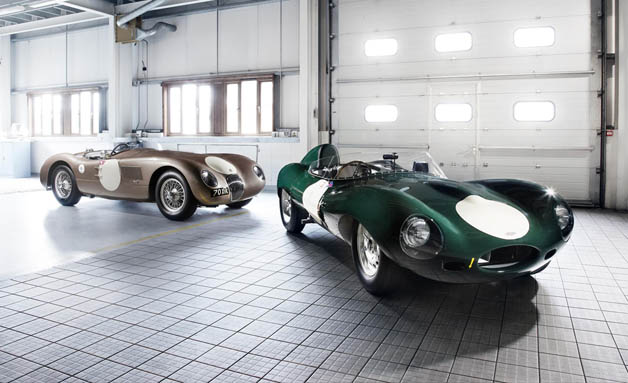 Jaguar is a company that has a certain status on multiple levels.  On the one hand it is know for its elegance and luxury, feeling and looking perfectly at home next to a Rolls Royce or Bentley in many a discerning a automotive enthusiasts' garage.  This is the car that you might take to a wine tasting, or the one in which you may take the scenic route to the governors' ball.
But there is the other side to Jaguar, the side from which the company draws its name, and the side which put Jaguar on the international map: Racing.  Jaguar, like many automotive companies the world over, is turning its back to the engine, so to speak, and looking at the pinnacles of its past from which to draw inspiration for its future.  At every pinnacle's point, Jaguar sees a historic race.
It is for this reason that Jaguar is reviving its classic racing program.  Right now this initiative is limited to classic races such as Goodwood in the UK, but things could open up very soon to more current and prestigious events such as Le Mans(which would mean the official revival of Jaguar's F1 team).
This development could also, as we have seen with Dodge, spark a design revival, a movement within Jaguar where the good people at the design table begin to incorporate classic Jaguar elements into contemporary and cutting edge concept and production cars.
"Jaguar is proud of its heritage, and it is a heritage that is both alive and ever evolving," says Jaguar Global Brand Director, Adrian Hallmark, "Advanced engineering is part of our heritage."  As Jaguar embarks on the most extensive new product development cycle in its history, it is the perfect time to invest in and celebrate its heritage.
Phoenix Valley automotive enthusiasts who may be interested in getting their hands on a classic Jaguar should not hold their breath for Jaguar sanctioned classic racing replicas to be hitting Phoenix Valley showroom floors anytime in the very near future.  You would do best to stay tuned to Vroom for the latest news and updates concerning the best local, regional, and national classic and luxury car auctions, where you can find your own vintage Jaguar gem.