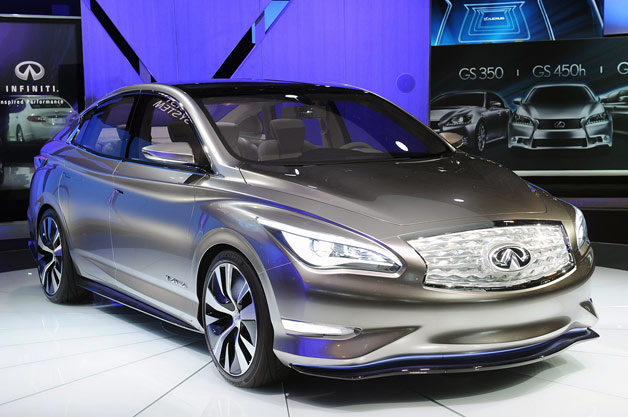 Anyone who has ever been kicked out of an "All You Can Eat" restaurant, before they have in fact had all that they could eat knows what it is like to be taken in by misleading branding.
Take Infiniti as another example.  Anyone who has ever taken an Infiniti on a cross country, Thelma and Louise style getaway from the authorities knows that in fact an Infiniti is quite finite.  But with the debut of their latest concept model, Infiniti (the luxury brand wing of Nissan motors) is doing its best to live up to everything which it's name implies.
The Infiniti LE Concept has made its world debut this week at the 2012 New York International Auto Show.  Though sharing much with the stunning futuristic Infiniti concepts that have come before – a sweeping aerodynamic body, an elegantly intelligent interior, inspired driving performance and advanced next-generation technology – the Infiniti LE Concept is a bit more grounded in practical technologies than previous concept vehicles from the luxury brand.  A full production version of the LE Concept is expected to arrive within the next two years as Infiniti's first zero emission luxury sedan.
"In a future that holds an increasing consumption of natural resources, we will advance our sustainable mobility leadership and expand our EV market penetration with new electric vehicles such as the Infiniti LE Concept," said Nissan President and CEO Carlos Ghosn. "Infiniti is well positioned to deliver the objectives for a sustainable future, relying on our capable, hard-working and motivated team members around the world. We are a challenger."

The LE will come with all of the amenities expected in a high tech luxury model these days, including a full electronic interactive interface, cutting edge lithium-ion battery power, and all of the elegant trimmings that come with a luxury brand vehicle.  And all of this is coming rather soon.
"As a 'production intent' concept, most of what you see in the LE Concept will become a reality, including its zero emission powertrain, advanced telematics, cutting-edge design, advanced connected services and premium appointments," said Infiniti Americas Vice President Ben Poore. "Infiniti believes the future of luxury is sustainable luxury and we intend to continue taking a leadership role, building on the foundation set by our advanced Infiniti M Hybrid and high-mpg Infiniti JX luxury crossover."
Phoenix Valley automotive and luxury enthusiasts should keep an eye tuned to Vroom for further updates on the Infinit LE Concept as it edges ever closer to production, while they can also view and test drive any current production model Infiniti at their local Phoenix Valley Infiniti dealer.