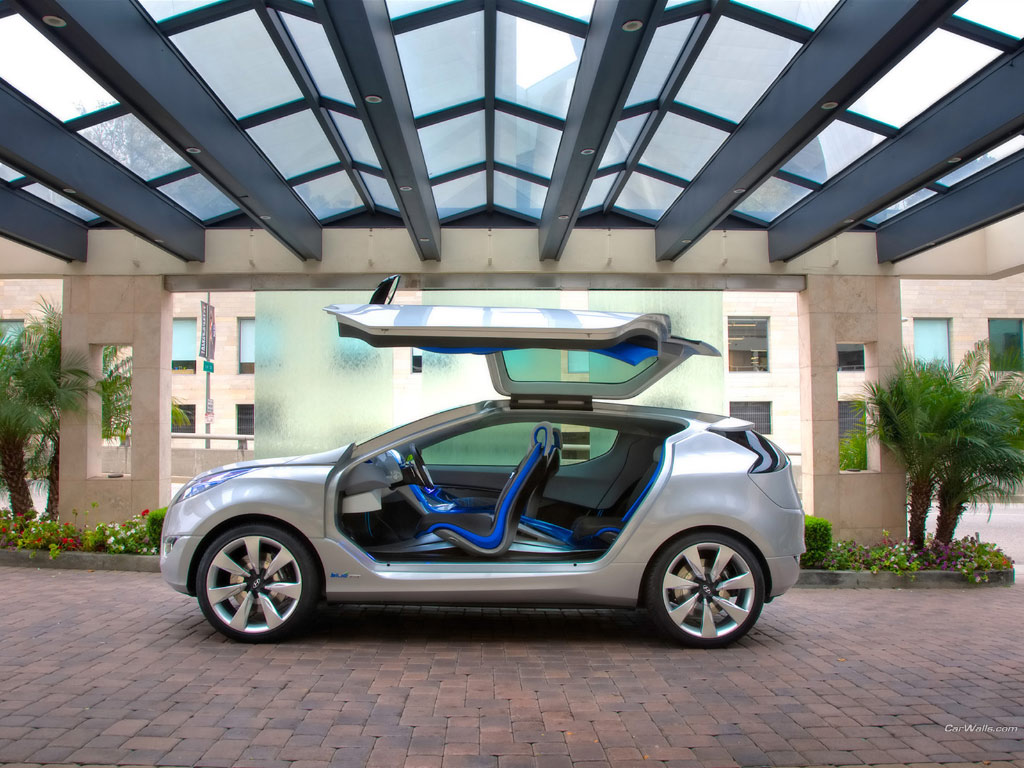 Outdoor and auto enthusiasts in the Phoenix Valley area have been having a collective thought:  "Where is the well styled, fuel efficient, roomy yet compact, high tech hybrid cross-over SUV that the market demands and the industry should be producing?"  Or, perhaps, Hyundai perceived that Phoenix Valley drivers, and motorists worldwide, have had this conundrum weighing heavily upon their minds for a while,  because they answer all of the problems contained therein soundly with the introduction of the Hyundai Nuvis concept vehicle.
Hyundai creates a new vision for the future of the premium crossover, and hints at a possible design direction for the next-generation Santa Fe with the Nuvis Concept.  The futuristic SUV styled body gives the Nuvis the passenger and cargo room of a large sedan, while its wide stance and low roofline lend it a sporty appearance.
The Nuvis Concept also showcases Hyundai's all-new proprietary Hybrid Blue Drive architecture.  Hyundai's Hybrid Blue Drive system operates on a principle similar to Toyota's Hybrid Synergy Drive, wherein the gasoline engine is mated to an electric motor that reduces the load on the engine, increasing efficiency. In this case, Hyundai's 228-hp Theta II 2.4L inline four-cylinder engine is mated to a 30 kW electric motor that can get the vehicle moving from a stop and provide extra power for accelerating and passing.
This system has an all-electric mode and a parallel drive mode, so that the wheels are turned by power directly from the gasoline engine of the electric motor, or both together, as conditions demand. And the Nuvis Concept uses lithium polymer batteries, which are more durable and space-efficient than current bulkier hybrid batteries.
The Hyundai Nuvis is the 11th signature concept car to be designed at the company's California Design Center in Irvine, CA.  In addition to showcasing the brand's cutting edge capabilities, the Hyundai Nuvis also hints at a possible new direction for a future generation of cross-overs.
Phoenix Arizona auto enthusiasts can view developments stemming from the Hyundai Nuvis concept, as well as likely seeing the vehicle it's self in the coming years, at any local Phoenix Valley Hyundai dealer.