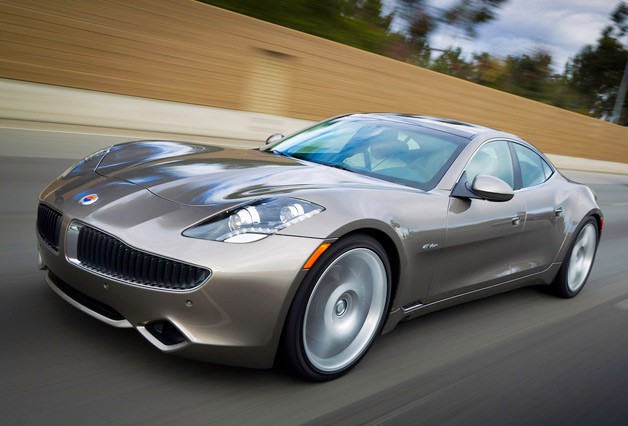 We have heard rumors, we have read reports of sightings, we have seen it ourselves in our dreams, and we have written about it on Vroom before, but now it is finally here.  The Danish designed 2012 Fisker Karma is in production and on sale in North America.
The Fisker Karma is a plug-in hybrid luxury sports sedan produced by Fisker Automotive and manufactured at Valmet Automotive in Finland.  The chief rival of Fisker would likely be Tesla Motors, with the key difference, and Fisker's key advantage, being that Fisker is producing hybrid vehicles as opposed to the purely electric cars coming from Tesla.  What they do have in common however is the goal of creating and manufacturing truly elegant, luxurious, high performance eco-friendly vehicles.
On the side of fuel economy the Fisker Karma turns out an EPA rating of 52 MPGe.  This puts it on par with the new Toyota Prius C, The most fuel efficient practical production car on the market today.  What makes the Fisker Karma stand apart is that it allows the driver to enjoy the freedom of 52 MPGe within the context of elegance and the possibilities of a high performing engine.
Each rear-mounted motor delivers around 200 horse power to the rear wheels and an impressive 479 pound-feet of torque a piece.  This kind of power allows for a 0-60 MPH acceleration in roughly 6 seconds, with speed topping out around 125 MPH.  While this does not place the Fisker Karma in super car territory, it does place it in super hybrid territory.
While the 2012 Fisker Karma features a price tag appropriate for a luxury item, I will not be the first reviewer to say that the Karma feels, looks, and runs like a $250k car that actually costs just above $100k, with the highest trim level coming out to $116k.
In the eyes of Vroom the Fisker Karma represents the best possible blending of the best automotive realms.  The Karma is a high performance machine, defined by luxury and eco-friendliness.
While the company has not announced which dealerships in the Phoenix Valley area will carry the Karma, Phoenix Arizona residents would do well to keep an eye on the new model line ups at Scottsdale Ferrari(which tends to carry esoteric high end automotive brands), and other such Phoenix Valley area dealerships.