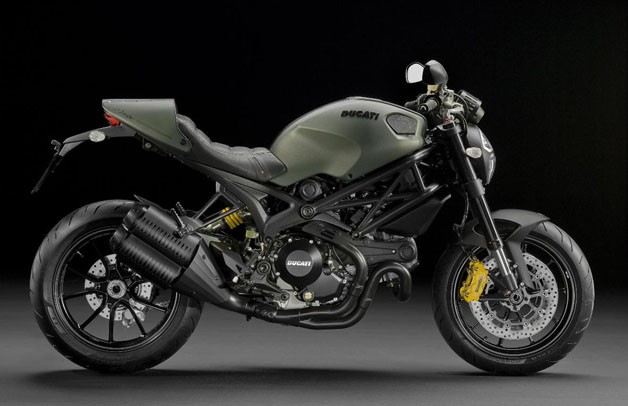 You may have heard that Ducati was recently acquired by the luxury powerhouse that is Audi. We were all expecting some changes, possibly some more emphasis on elegance, maybe a bit of fine leather, and perhaps even a free set of golf clubs with each purchase.
But Diesel? The headline of the press release was a bit shocking, marking a change that must have been in the works for years as opposed to a mere weeks long marketing campaign. But when we read the fine print, we saw that this new direction does not involve diesel fuel in any way, but rather Diesel clothing: Diesel with a capital D.
Diesel signed on last year as a sponsor of the Ducati racing team in the MotoGP series, and has now taken the partnership to a level unanticipated by both motoring enthusiasts and style wise fashionistas. The result is the new Ducati Monster 1100 EVO. The joint makeover includes a military theme with Diesel's trademark matte green paint, yellow brake calipers and rear spring, and blacked-out frame, engine covers, exhaust, and forks.
"The Monster Diesel, and the collection dedicated to it, reflect the "coolness" of this iconic motorcycle and our brand in general," said Gabriele Del Torchio, President of Ducati Motor Holding. "The collaboration with Diesel, underlines our focus on the style and trends that shape the market and I am delighted to associate our world with that of fashion and, in particular, with Diesel. Both brands globally represent technology and innovation in pure Italian style."
Of course Ducati is known as much for their biking gear as they are for their two wheeled prowess. Ducati acknowledges this by launching the special edition bike with a range of biker gear including everything from jackets to jeans, all in typical Diesel style, but with an added dash fine Italian road ready flare and ruggedness.
For Phoenix Valley motorcycle enthusiasts, Ducati does not have a dedicated Phoenix Valley dealership as of the posting of this article.  However, GO-AZ Motorcycles has been known to carry new and recent Ducati models, while dedicated Ducati dealerships can be found in San Diego and Los Angeles, both a relatively short ride from the Phoenix Valley area.