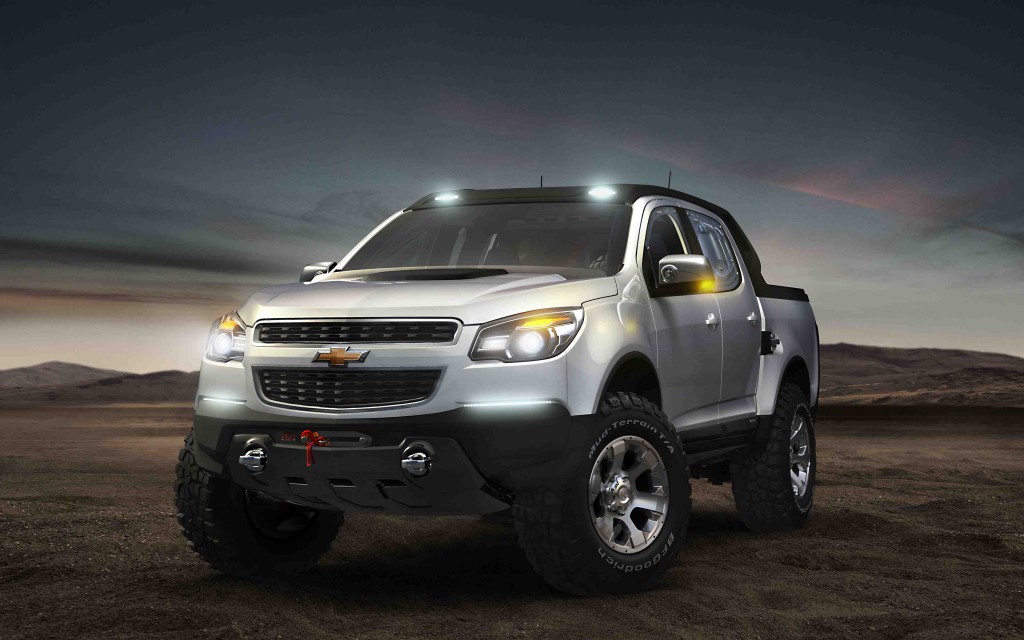 Debuting this year at the Bangkok International Auto Show, the new Chevy Colorado Concept presents itself as a vehicle intended for a mixed use of serious off roading and serious work.  While this vehicle, especially the Rally version pictured above, appears to be the exact beast that the rest of the auto industry is running away from, the fact that it is a turbo-DIESEL lends some promise towards a comparatively manageable fuel economy considering the vehicle type.
When asked as to the relation of the concept to the current production line, Chevy had this to say:
"Although this is a show vehicle, the basic proportions and form conveys the vision for the next-generation Colorado that we will bring to market," Brad Merkel, GM's global vehicle line executive, said in the company's statement released Monday. "It reflects a stylized version of the new truck, one that takes into account rugged dependable truck capabilities for commercial use as well as sophisticated refinement for personal-use needs."
Auto industry insider rumors were hinting that Chevy would likely be discontinuing it's midsize pickup lineup, which includes the Colorado and the Canyon, as it will be turning off the lights next summer at it's Louisiana plant where the trucks are assembled.  Of course, like a death row inmate ordering an ab master, it wouldn't make much sense to bother developing a line which is soon to be discontinued.  When questioned:
"The Colorado show truck was developed to test consumer interest in this growing segment around the globe. It's an exciting statement of capability and performance, two traits that have become synonymous with Chevrolet," said a Chevrolet spokesperson "Beyond that we have no production plans to announce. However, we expect the Colorado to remain a part of the Chevrolet portfolio in North America."
Phoenix Valley auto enthusiasts should keep an eye out for elements of the new Chevy Colorado Concept to be showing up in current production models at any local Phoenix Valley area Chevy dealer.  The Phoenix Valley area, with it's close proximity to some of the most rugged, foreboding, and desolately beautiful landscapes on earth, has long been an off roading Mecca, thus Chevy would be wise to feature the Colorado Concept at this years Phoenix Arizona International Auto Show,  taking place at the Phoenix Arizona Convention center over Thanksgiving weekend.