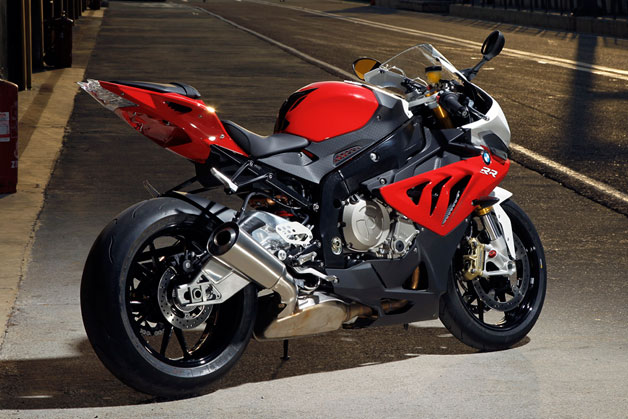 1997, a young Pierce Brosnan plays second fiddle to the BMW R1200C in "Tomorrow Never Dies", and the German automotive company garners the attention and respect of motorcycling fans around the globe.  That was pretty much it for the BMW motorcycle division (BMW Motorrad) until twelve years later in 2009, when they again made a huge impression on the world motorcycling community with the debut of the BMW S 1000 RR Superbike.  Here we are almost three years later and BMW is releasing the 2012 model, which, while not a a reconceptualization, does make some large changes and strides with an already near perfect product.
The themes for the 2012 S 1000 RR Superbike are precision and agility.  One of the primary objectives pursued for the revised S 1000 RR model was to improve rideability by boosting thrust and enhancing the linearity and harmoniousness of the power and torque curves. The reconfigured throttle improves overall response.  The new, optimised design raises response sensitivity, tightens the twist grip angle, and reduces the twisting force.
In the opinion of Vroom, the 2012 S 1000 RR Superbike gets it most right in the arena of style.  An American style bike is very specific in its appeal, and that appeal does not reach out to everyone's sensibilities.  A Japanese bike, like say, a Kawasaki Ninja, is widely appealing and sophisticated, but that may be it's downfall.  No one wants to ride something that five other people on their block are riding.
So this leaves us with BMW and Ducati.  Ducati is a great company, based in Italy, and they manufacture a unique and appealing motorbike.  While I would not hesitate to recommend a Ducati, I can understand that they have made some bold choices, choices which, like the typical American bike, may not appeal to everyone.  Which brings us to BMW, and more specifically the 2012 S 1000 RR.  With the smooth hyper-modern curves of a Japanese style bike, the unique choices of an Italian racer, with a precision and luxrious warmth that uniquely German, all serving as a shell for precision road rocket, this bike seems to be the most well designed two wheel vehicle, from both a visual and mechanical perspective, on the market today.
Phoenix Valley auto enthusiasts can view and test drive any current production model BMW at any Phoenix Valley BMW dealer.  Phoenix Valley auto enthusiasts should plan on attending the Phoenix Arizona International Auto Show to learn about the most recent concepts and innovations from BMW, as well as the rest of the auto industry, taking place at the Phoenix Arizona Convention center over Thanksgiving weekend.