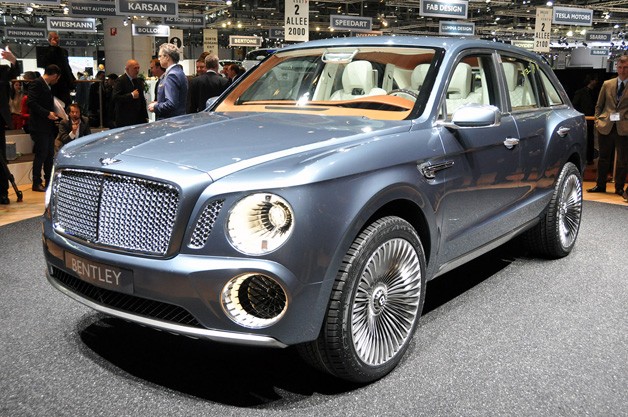 The name Bentley carries with it a certain cultural weight.  Driving one could be seen as synonymous with wearing a top hat and monocle, or perhaps slightly more in line with today's reality, sailing and enjoying a fine wine.  Bentley is the fine wine of automobiles, enjoyed by those with both the tastes to differentiate quality from chaff, as well as the means to pursue the finer things.
Bentley understands that their customers want, above all else, elegance and luxury.  Sometimes this luxury is manifested as subtle and understated, and sometimes it comes across as slightly more ostentatious.  Either way, the Chesire, UK based company knows the pure meaning of elegance and luxury better than perhaps any other automotive manufacturer in the world.
This reality poises Bentley in a unique position from which to branch out into other automotive markets, areas previously left untouched by many of the ultra luxury vehicle brands.  Bentley's first foray into this realm takes the form of the SUV.
"We are very excited by the potential of a high performance, ultra-luxury Bentley SUV. We know that many Bentley customers already own SUVs, admiring their style, luxury, performance and versatility. With EXP 9 F, Bentley is making a clear statement of intent that we have both the expertise and desire to meet and exceed their expectations." Wolfgang Dürheimer, Chairman and Chief Executive, Bentley Motors.
Key Bentley cues such as the matrix grille, round lamps and the strong power-line and haunch along each flank are reinterpreted for the EXP 9 F(the SUV concept pictured above). The 'hewn from solid' design language and innovative detailing, emphasise the robust character of this high-luxury SUV.
The designers were inspired not only by the more functional nature of EXP 9 F but by the 'visible engineering' of the famous Blower Bentleys. For example, the day-time running lamp apertures also act as the charge cooler air intakes for the twin-turbo W12 engine, each with a dramatic, mesh-covered turbine fan design and 'rifled' inner surface finish.
"The challenge for the interior design team was to create a cabin which provides a blend of luxury and utility. The result is a light and airy environment with a commanding view of the road and a versatile layout which showcases Bentley's craft and design language in an innovative and contemporary way."
Traditional handcrafted elements such as wood, leather and polished metals such as aluminium, bronze and gunmetal are used to create a sense of British luxury, yet the way they are used sets a fresh and contemporary interior ambiance. Soft-touch leather contrasts with highly durable surfaces with the concept car design experimenting with the use of saddle leather for the seat backs, top roll and load space – while analogue bezels and dials are paired with TFT 'virtual' instrumentation.
Although the EXP 9 F concept is based around the Bentley 6.0 litre, twin-turbocharged W12 engine with an 8-speed transmission, both the company's recently-launched 4.0 litre, twin-turbocharged V8 or a hybrid drivetrain could meet the performance requirements of a pinnacle luxury SUV.
Phoenix Valley automotive enthusiasts can learn more about the development of the Bentley luxury SUV concept by keeping an eye tuned to Vroom.  Phoenix Valley car lovers can also view and test drive any current production model Bentley at Scottsdale Bentley.