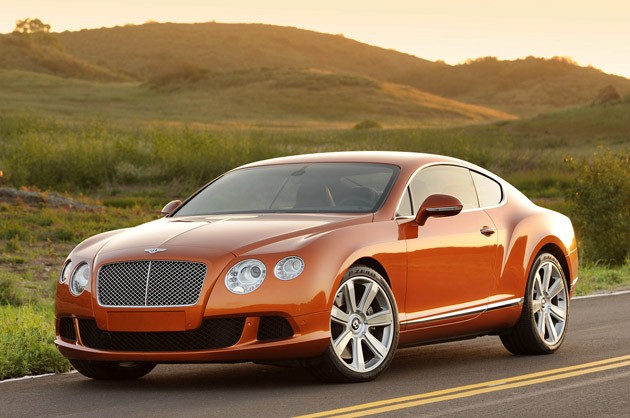 Often we, as a culture, do not mix luxury with sport.  We don't drink fine wine at football games, and we don't usually arm wrestle in the middle of corporate banquet halls.  This is, generally speaking, for the best.  Sometimes though, a mixture of elegance and muscle is exactly what is called for.  While it may not be a perfect analogy, the new 2013 Bentley Continental GT V8 is basically a four wheeled version of hooking up a crystal chandelier to a NASA rocket.   It is a perfect meeting of luxury and engineering masterwork.
From an exterior design perspective, the Continental stands high in the history of automotive design.   The front end lamps feature a new staggered size while the freshened face wears "jeweled" design.  This is all integrated with LED running lamps circling each lens.  The new "Super Formed" aluminum bodywork allows the sharply creased fenders to envelope the headlights in lightweight alloy. At the side the greenhouse is shorter, doors are taller, and there are new mirrors.  While the overall look speaks of elegance and luxury, it is decidedly masculine, drawing from a strong minimalist inspiration in its presentation of on road dominance.
Under the hood we find a twin-turbocharged 6.0-liter W12 putting out 567 horsepower and 516 pound-feet of torque.  The transmission is a standard ZF-sourced six-speed automatic, tweaked for the new model year to deliver quicker shift responses and double-downshift capability to improve passing times.  The Continental features all-wheel drive with a torque split of 40:60 for better feel and more rear-wheel drive mannerisms.
Bentley's Continuous Damping Control (CDC) air suspension adjusts itself several hundred times per second, giving the coupe multiple personalities. The system lowers the car at higher speeds to improve stability and can be manually activated to raise the vehicle to clear steep driveways. While it works automatically, suspension damping may also be customized via settings on the touchscreen. Acceleration and braking aside, when it comes to ride quality, mass is the big coupe's best friend. Nothing short of a giant sinkhole is capable of diverting the trajectory of a moving Continental GT.
With a price tag coming in at over $170k, the Continental GT is not exactly for the average man or woman.  For those Phoenix Valley automotive enthusiasts and luxury design appreciators who can swing it, the 2013 Bentley Continental GT V8 is easily one of the finest vehicles on the planet today.