It was a banner year for Arizona's collector-car auctions, with the five major events – Bonhams, Barrett-Jackson, Gooding and Company, RM Auctions, and Russo and Steele – yielding nearly $228 million in sales. Records were set for sales, money was raised for charities and Ferraris stole the show at several of the events.
Bonhams
In just their second year in Arizona, Bonhams earned more than $14 million at the Westin Kierland Resort, doubling last year's total and achieving 80 percent of their vehicles sold. Top sellers included a 1972 Lamborghini Miura SV which sold for $1,215,000, a 1930 Bugatti Type 46 Faux Cabriolet for $951,000 and a 1968 Ferrari 330 GTS Spider that brought $912,500. A world record was set for a model when the London Motor Show 1964 Morgan 4 Coupe sold for $230,000. Full auction results can be found at www.bonhams.com/scottsdale.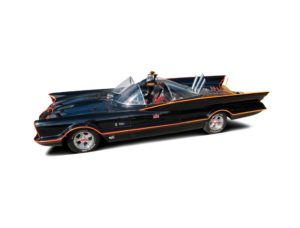 Barrett-Jackson
En route to its $109 million in sales, Barrett-Jackson set a world record for the largest number of no-reserve vehicles offered at auction and world records for individual vehicle sales with the 1956 Chrysler Diablo Concept Convertible ($1.375 million) and the 1947 Talbot-Lago T-26 Grand Sport ($2.035 million). The crowd of 300,000 at Westworld was thrilled by the 1966 Original #1 Batmobile, which sold to a lifelong fan for an astounding $4.62 million, and awed by Clark Gable's breathtaking 1955 Mercedes-Benz 300SL Gullwing Coupe, the second-highest seller at $2.035 million. In addition, 21 vehicles were sold to raise more than $5 million for charities benefiting children, military personnel, medical research and community support. Full results can be found at www.barrett-jackson.com.
Gooding & Company
An auction house that prides itself on offering the best-of-category collector cars, Gooding achieved a 97 percent sales rate, and realized $52.5 million in sales at its event at Scottsdale Fashion Square. That's a 31 percent increase from last year's auction, and an average price of $519,727 per car sold. Gooding set 16 world records for individual vehicle sales this week, including its top seller, a 1958 Ferrari 250 GT LWB California Spider ($8.25 million), the most valuable car ever sold in Arizona auction week history. Twelve of its 101 vehicles sold for more than $1 million and seven for more than $2 million; six of the top 10 most valuable cars sold were here this week. Visit www.goodingco.com for complete auction results.
RM Auctions
Focusing on investment-quality vehicles, RM saw 11 stellar Ferraris cross the block at the Arizona Biltmore Resort this week, with record-setting top-sales honors going to the 1960 Ferarri 250 GT SWB Berlinetta "Competizione" ($8.14 million, pictured above). Seven other vehicles sold for more than $1 million, including four additional Ferraris. The auction set world records for the sale of a 1953 Allard JR "Le Mans" Roadster, just one of seven built ($605,000) and a 1955 Lancia Aurelia B24S American Spider ($825,000). With 89 percent of all lots sold, RM generated more than $36.4 million during its single-day auction. Results are posted online at www.rmauctions.com.
Along with sales results, both Barrett-Jackson and Russo and Steele announced their expansion into other markets for 2013. Barrett-Jackson will head to Reno, Nevada, for Hot August Nights, August 8-10. This is in addition to its events in Palm Beach, Fla., and Las Vegas. Russo and Steele will head to Newport Beach in the summer and Las Vegas this fall.