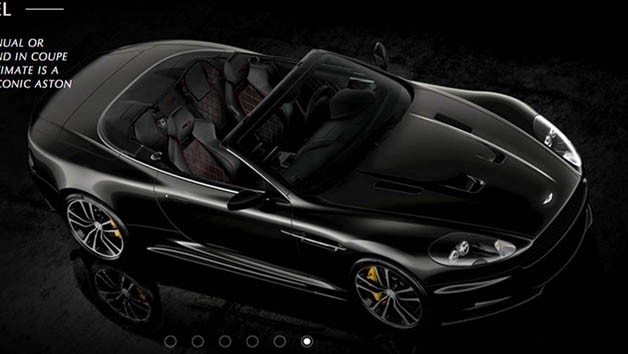 Generally when a luxury automotive manufacturer releases a new car, we would be reporting it from Geneva, or Tokyo, or Los Angeles, or any of the dozen other prestigious international auto shows that take place around the globe each year. Rarely is it that a high end brand such as Aston Martin would debut a vehicle online, without first showcasing it in the flesh.
Yet that is exactly what Aston Martin has chosen to do with one of their finest and most cutting edge vehicles to date. The Aston Martin DBS Ultimate showed up today on Aston Martin's website, complete with interior and exterior shots, as well as the fine details, from stitching to horsepower.
Aston martin will be celebrating its cenenial next year, and the company is investing heavily into creating a maximized luxury portfolio for the event.  The DBS Ultimate is one piece of the puzzle that we will see coming together more and more over the coming months.
On the exterior, the DBS Ultimate will feature special badging, a painted rear deck-lid spoiler, carbon-fiber wing mirror caps, a darkened grille, smoked tail-lamps, Zircotec-coated tail pipes and a choice of yellow, black or red brake calipers.
The interior is dressed to the nines in diamond-quilted stitching upon lush leather seats and the signature Alcantara headliner in either red or silver thread. Customers lucky enough to get this far in the buying process will have a choice between three exterior paint finishes – Carbon Black II, Quantum Silver or Silver Fox.
The DBS Ultimate will come in either coupe or Volante convertible body-styles, depending upon the desire of the customer.
Aston Martin has not released any pricing information, nor have they hinted at exactly how many DBS Ultimates will be made. But based upon previous releases from the company we can venture to guess that the vehicle will be highly exclusive, both in terms of the price tag and the number of cars produced.
Phoenix Valley automotive enthusiasts can view the Aston Martin DBS Ultimate on their website at:
http://www.astonmartin.com/dbs-ultimate
Phoenix Valley automotive and luxury lovers can inquire further at Scottsdale Aston Martin.