We may be just a few weeks into the new year, but for car manufacturers, 2013 is already old news. They're thinking ahead for the 2014 model year, with a slew of new luxury vehicles set to be released. Here's what's on the horizon:
Acura RLX (starting at $48,450) – The new flagship sedan from Honda's luxury division will arrive in dealerships in March. It will feature a 310-horsepower engine, and is expected to achieve best-in-class fuel economy of 20/31/24 mpg (city/highway/combined). An all-wheel-drive version will be available, and the RLX will come equipped with a wide array of features, including cloud-based connected car systems and driver-assistive safety technologies.
Cadillac ELR (pricing TBA) – Unveiled at the North American International Auto Show, the ELR features GM's Extended Range Electric Vehicle technology, which combines an electric drive and a gasoline-powered electric generator to achieve 154 kilowatts (207 horsepower) of system power. Driving range exceeds 300 miles, and the vehicle can be completely recharged in 4.5 hours using a 240-volt outlet. The Cadillac ELR will hit showrooms in early 2014.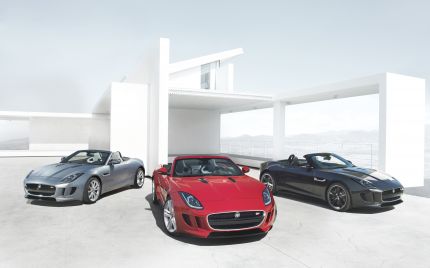 Jaguar F-Type (starting at $69,000) – This all-new two-seat convertible is a sleek, engaging sports car available in three models equipped with a 340-horsepower V-6, a 380-horsepower V-6, or a supercharged 495-horsepower V-8. With the new F-Type, Jaguar combines powerful engines and a low-weight all-aluminum body for a high power-to-weight ratio that yields a fast, responsive driving feel. All models are rear-wheel drive, and arrive at dealers in mid-2013.
Mercedes CLA-Class (starting at $29,900) – Taking design cues from the elegant and oft-imitated CLS, the new CLA will be a four-door coupe aimed at first-time luxury buyers. It will be equipped with a bevvy of multimedia systems, a 209-horsepower engine, and optional 4MATIC all-wheel drive. The CLA will be available in September, but you can get a preview via Super Bowl commercial:[youtube id="oPNr0_6MnDo" width="600″ height="350″]
Porche Macan (starting at $45,000, est.) – Capitalizing on the popularity of its Cayenne SUV, Porsche will introduce an entry-level crossover, built on an Audi Q5 platform. It will arrive in dealerships later this year, completing Porsche's journey to be a full-line manufacturer.
Other projected debuts for 2014 are a BMW 4-Series and X4 and the electric i3 and i8, a B-Class from Mercedes and the Cadillac ATS-V.