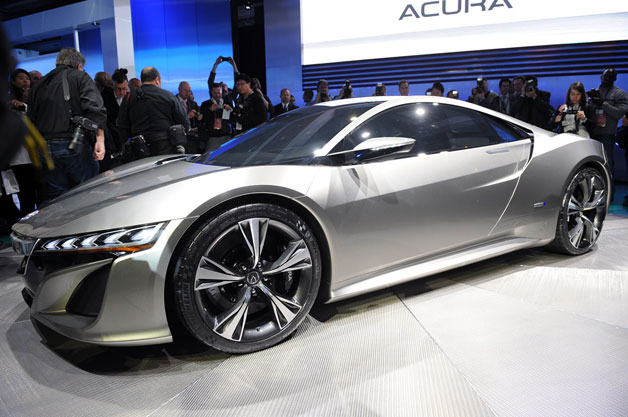 This month at the Detroit Auto Show Acura debuts the final product version of the revived NSX Concept.  While the Acura NSX has previously existed as a production vehicle (1990-2005), the new NSX concept debuting in Detroit has a much in common with the original as an iPad 2 does with a 1996 Mac desktop, meaning that this car is a far cry from a look back.  This is the car that will take Acura, and the wider automotive industry as a whole, into the future.
Aside from the obvious aesthetic appeal of the car's high tech exterior design, a great deal of appeal and innovation rests under the chrome hood.  This new vehicle operates on a hybrid electric engine, using "Bilateral Torque Adjustable Control System" technology to draw upon one of the key advantages of electric vehicles: Torque…instant, high power torque.  Acura has coupled this with their new Sport Hybrid SH-AWD system.  This, Acura says, will deliver handling and performance unmatched by any previous AWD systems.
"This Sport Hybrid SH-AWD system will make NSX the ultimate expression of Acura's idea to create synergy between man and machine," said Takanobu Ito, president and CEO of Honda Motor Co., Ltd. "The NSX will make the driver one with the car to enhance dynamic driving abilities without getting in the way."
While it has been the defacto rule for supercars to choose brute force delivered from a large engine at the expense of many other factors, the NSX Concept stands up for the racing engineering principal of an extremely favorable power-to-weight ratio.
"Like the first NSX, we will again express high performance through engineering efficiency," added Ito, who led the development of Acura's first NSX supercar. "In this new era, even as we focus on the fun to drive spirit of the NSX, I think a supercar must respond positively to environmental responsibilities."
The new Acura supercar, expected to debut in the next three years, will be developed by an engineering team led by Honda R&D Americas, Inc., and manufactured in Ohio at a yet to be named facility.
Phoenix Valley automotive enthusiasts can keep an eye out for the new Acura NSX production car coming relatively soon to their local Phoenix Valley Acura dealer.