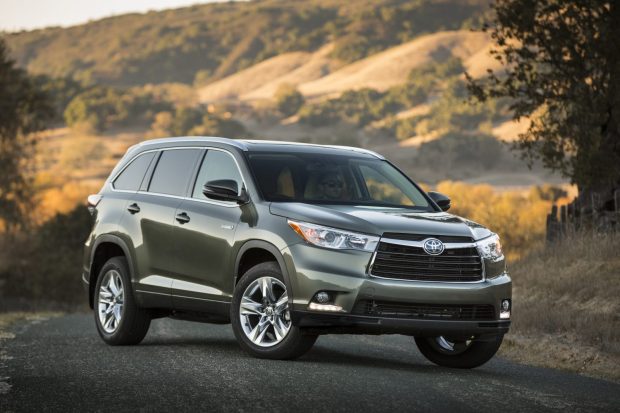 The mid-sized SUV segment is probably the most crowded in the industry, with stellar offerings from carmakers across the spectrum of price ranges. This is a good news/bad news proposition. On one hand, there is competition. On the other, there is opportunity, particularly in the mid to high end of the segment, where no one brand holds the lion's share of the market. Currently, Toyota Highlander holds about 8.5 percent of the market share, a number that Toyota hopes to bolster with its latest redesign.
For this third-generation Highlander, Toyota targeted three main areas for improvement: exterior styling, family friendliness, and driving dynamics. I had a chance to drive the XLE and Limited trims of the Highlander recently in Santa Barbara, testing its chops on twisty hillsides, open beachfront roads and around town. There are also LE and LE Plus models, but Toyota feels that the top two trims will account for about 75 percent of Highlander sales.
The primary audience for the Highlander is active families, and Toyota has rightly recognized that someone with the need for an eight-passenger vehicle doesn't want to sacrifice on style. If they did, they'd just buy a minivan. So, here, Toyota really brought their A game, integrating the brand's trapezoidal grille up front, and giving the back end a more angular look, with taillamps that wrap around to the side. The door panels have a concave design, and the underbody is slightly wider than the upper section of the vehicle, giving it a bold stance and sporty appearance.
The roofline is lower, and optional roof rails are flush against the top for both aesthetic and aerodynamic reasons. Subtle design cues help improve Highlander's drag coefficient, ensuring that, although it's hefty, it still retains best-in-class fuel economy.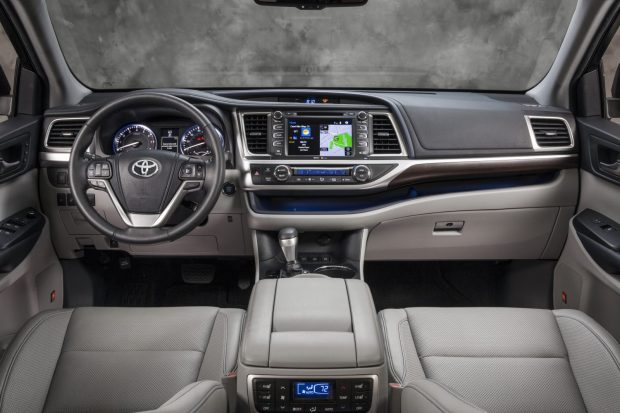 The interior has been thoughtfully upgraded as well, with soft-touch high-grade materials, a standard third row on all models (seating for eight on all but the Limited trim, which comes with captain's chairs in the second row), and heated and ventilated leather seating on the upper trim levels. Even with the third row, cargo capacity is sufficient, having increased by 34 percent behind the seat, leaving room to stow a golf bag or a folded stroller.
There are also some seemingly minor features that really demonstrate how Toyota put thought into how people use their vehicles everyday. Here's what I mean. I like to have easy access to items like my gate opener, my music player, etc. Usually these items end up in the cup holders or the ashtray or just sliding around on the passenger seat. This has resulted in mishaps like dropping my phone into an uncovered cup of water in the center console, items flying off of the seat, causing distraction.  In the Highlander, there's a nifty shelf on the lower section of the dash, with soft padding and even a hole for cord access to the USB and 12-volt charging ports beneath. And, a roll-top center console fits oversized items, like the gargantuan mom/work purse that I've been known to lug around.
And for those times when you have to yell, "Don't make me turn this car around!" but fear that the kids in the third row might not hear you, Toyota thought up a feature called Driver Easy Speak, which amplifies your voice to the back rows.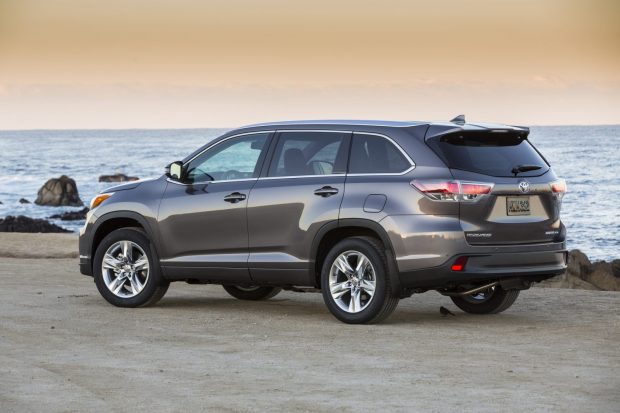 As for the driving dynamics, there is much improvement here as well. Standard on the top two trims is a 270-horsepower V-6 with a six-speed automatic transmission, which didn't feel at all underpowered in a variety of driving conditions. The new suspension has made the Highlander even more sure-footed, and the optimized electric power steering gives it a decent turn radius and heavier steering feel. This is a vast improvement, in my opinion. The soft on-center response has always been one of my complaints with Toyota products. And while Highlander still doesn't have the tightest steering feel, it has come a long way from previous generations.
All trim levels are well equipped, eliminating complicated option packages to add desirable features. In fact, options are only available on XLE and Limited models and are limited to a rear-seat entertainment system, a Driver Technology Package and a Platinum Package. All come equipped with the improved Entune audio system/app suite with an updated voice-recognition system that "learns" new dialects for better responsiveness. On the safety front, a back-up camera is now standard.
The "No Room for Boring" campaign launched during the Super Bowl is particularly apt for the new Highlander, as it addresses two of the revamp's main selling points: improved styling and an abundance of cargo space. Because, while there's no room for boring in this car-based SUV, there's plenty of room for your family and your stuff, which you can transport in style and comfort.
The 2014 Toyota Highlander starts at $29,215 and tops out at $49,790 for the top-of-the-line Hybrid Limited Platinum edition. Luxury buyers will want to focus on this or the Limited trim, which starts at $39,640 for the front-wheel-drive model ($42,130 with the Platinum Package). All-wheel-drive versions of the Highlander Limited are $41,100 and $43,590 (Platinum). The new Highlander received a Top Safety Pick Plus rating from the Insurance Institute for Highway Safety and earned ALG's Residual Value Award for 2014.