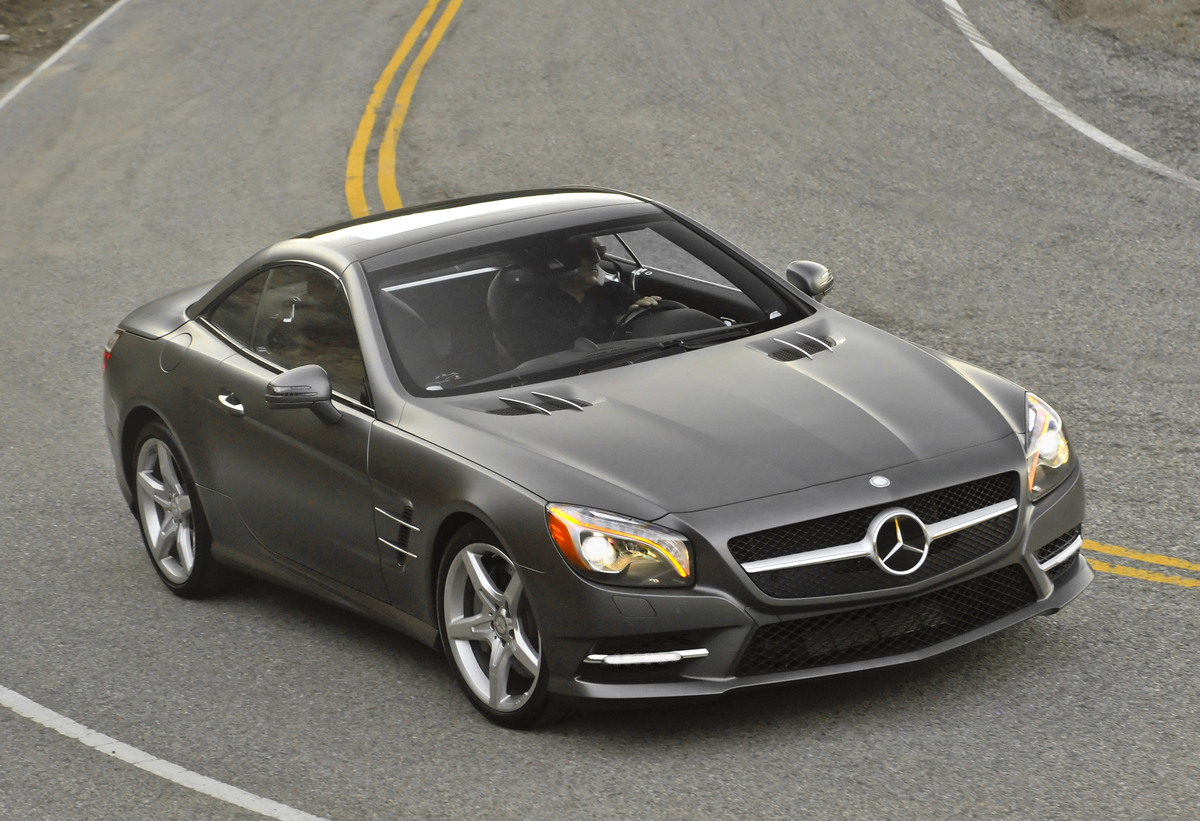 It wouldn't be an overstatement to say that the Mercedes-Benz SL roadster is an icon in the automotive industry. It's sleek, beautiful, nimble, and begs to be pushed to upper boundaries of the speed limit. In this iteration, marking the SL's 60th anniversary, the seamless blend of style, comfort and performance remains, enhanced with innovative technology, improved driving dynamics, and new features that can only be described as seriously cool.
Let's start with the seriously cool. The retractable hard top is powered by a space-saving electrohydraulic mechanism that converts the SL from a coupe to a roadster in a mere 20 seconds. New for 2013, two options are available for the roof: glass or panoramic with Magic Sky Control. And that's where the cool factor kicks in. At the push of a button, the panoramic roof switches from light to dark. When set to light, the roof is virtually transparent, offering the experience of open-air driving in any weather condition.  Set it to dark, and the roof provides respite from the blazing summer sun.
Even the windshield wipers on this vehicle are cool. Rather than spraying washer fluid haphazardly across the windshield (and potentially into the cabin when the roof is open), the blade dispenses it just in front of the blade, in both directions. The blades are also fully heated, great for forays into winter climes.
Technologically, the SL includes state of the art safety features, and "wow" factors like Active Parking Assist, which automatically steers the vehicle into a selected parking space, and hands-free access to the trunk by simply sliding your foot under the sensor to open and close when your hands are full. The vehicle will also steer you back into place if it senses that you're drifting out of your lane, warn you of vehicles in your blind spot and brake and deploy preventative measures if it senses an imminent collision.
Importantly, the SL still provides spectacular performance. The new all-aluminum shell makes it light and nimble, weighing about 240 pounds less than its predecessor. The new V-8 engine is good for 429 horsepower and will go from zero to 60 in just 4.5 seconds. Two performance oriented AMG models are also available: the SL63's V-8 produces 530 horsepower, and the SL65's V-12 puts out a heart-pounding 621, with 738 pound-feet of torque.
The new SL is a technological, stylistic and performance marvel.
Vital stats:
Power and Price: SL550, 429-horsepower V-8, starting at $105,500;
SL63 AMG, 530-horsepower V-8, starting at $145,800
SL65 AMG, 621-horsepower V-12, TBD
Transmission: 7-speed driver adaptive automatic
Fuel Economy (city/highway/combined): 16/24/19
Safety Ratings: Not rated