The terms "luxury" and "hybrid" may seem, to some, mutually exclusive. And, until recently, those naysayers had a decent argument. Luxury buyers may want the fuel economy and bragging rights afforded to hybrid owners, but not at the expense of performance and appearance. Thus, rather than trying to reinvent the wheel, so to speak, Lexus began offering hybrid versions of its already popular RX, GS, and LS models, as well as a hybrid-only CT.
I first drove the GS at its launch, where we took it through the paces at the Las Vegas Motor Speedway. Typically, Lexus has erred on the side of comfort instead of sport, so the new GS represents a serious departure from its predecessor, featuring a stiffer chassis, wider track and redesigned suspension. Hitting the track, it performed well. The steering feel is vastly improved, providing a tighter, more responsive feel; the GS gripped the road tightly and cornered admirably.
But, that was the traditional, gasoline-powered version. How would the hybrid compare? Pretty well, as it turns out. I recently spent a week behind the wheel of the GS 450h, and it felt luxurious and sufficiently powerful, with total system output of 338 horsepower, accelerating from zero to 60 in 5.6 seconds. With this new iteration, fuel economy is improved by 35 percent over the previous generation.
There are a total of five driving modes, selectable via the new Lexus Drive Mode selector: Normal; ECO, which revises the throttle, seat heating and climate-control systems to achieve better fuel economy; EV, allowing it to be driven short distances on only the electric motor; SPORT S mode revises throttle and transmission shifting to fully exploit the capabilities of the powertrain; and SPORT S+ mode adds handling enhancements to the powertrain enhancements of SPORT S mode.
Significant cosmetic changes also come to the GS this model year, most notably in the aggressively styled front end that Lexus has dubbed the spindle grille. To me, it looks a little Lego-esque in its trapezoidal angularity. The GS 450h can be distinguished from its gasoline counterpart by concealed tailpipes and Lexus' signature blue hybrid badging.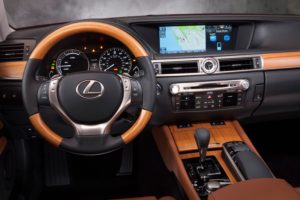 Lexus has really stepped up its game inside, where bamboo trim accents the steering wheel, door and dash. The seats are comfortable, heated and ventilated and adjust in 10 different ways to maximize driver comfort. My tester also included the Luxury Package with heated rear seats ($5645), which added even more seat-adjustment options, and three-zone automatic climate control. A new, stacked battery configuration gives the GS more cargo space than the previous model, and a revamped seat frame improves forward visibility and comfort.
The new GS comes loaded with lots of nice tech features as well, including the optional Lexus Enform system with App Suite on navigation-equipped models. Through Enform, drivers can make restaurant reservations from OpenTable, listen to Pandora or iHeartRadio, buy tickets from MovieTickets.com, check in on Facebook, and more. The system is fairly intuitive, but does require a bit of initiation time before you become completely proficient at it.
It also comes with a full complement of advanced safety features, an energy saving climate control system and all of the niceties expected from a luxury sedan.
There's a lot of tech-speak surrounding the new GS — the multi-link suspension, an increased number of spot welds, front and rear aluminum control arms — but it all boils down to one important fact: this car is fun to drive, whether on the track or in everyday life.
 Vital stats:
Power and Price: 338 total system horsepower via an Atkinson cycle 3.5-liter V-6 engine mated to a compact, high-output, water-cooled permanent magnet electric motor, starting at $58,950
Price as tested: $69,827
Transmission: Electronically-controlled Continuously Variable Transmission with intelligence and two-stage torque multiplication, power and snow modes
Fuel Economy (city/highway/combined): 29/34/31
Safety Ratings: Not yet rated