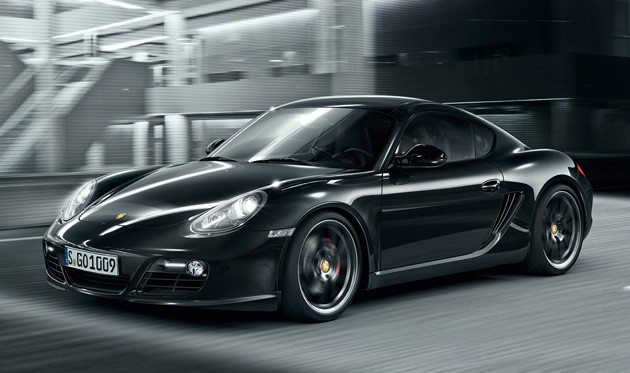 For Phoenix Valley auto enthusiasts who want to express their dark side, the most healthy and classy outlet I could suggest would be the 2012 Porsche Cayman S Black Edition.  But what does it mean to express a dark side through a high power, high performance sports car?  According to Porsche, this means:
"To accept no compromises, to make conscious decisions, to be governed by nothing other than one's own free will, and to have a clear point of view. A highly promising way to build a sportscar. For us, it's the only way."
It is from this philosophy that Porsche developed the new mid-mounted engine with a 3.4-liter capacity and direct fuel injection.  The Cayman S reaches 62 mph in just 5.2 seconds(imagine that cruising down a Phoenix Valley highway). Top speed isn't reached until 172 mph. Porsche Doppelkupplung (PDK) is available as an option. The fastest rate of acceleration of 4.9 seconds is achieved in conjunction with the optional Sport Chrono Package.
The engine delivers a power output of 320 hp at 7,200 rpm, and a maximum torque of 370 Nm is achieved at 4,750 rpm. It has been possible to reduce fuel consumption by up to 15% and CO2 emissions by up to 16%, depending on the type of gearbox.
In addition to having a higher power output, the Cayman S also differs from the previous Cayman in its appearance. It has a front spoiler painted in the vehicle's exterior color, and a new twin tailpipe in stainless steel. The sound? Distinctive. In keeping with the rest of the Cayman S.
On the exterior, the vehicle's chrome accents have been painted black for the ultimate stealth look, and that theme carries on indoors.  Black is the only available interior color, though brushed stainless steel and aluminum accents are littered throughout the cabin for a little flair.  Even the gauges have been doused dark, and a Sport Design steering wheel is part of the package, too.
To deliver the increased power output to the road, the Cayman S is fitted with 18-inch Cayman S II wheels. Their new design exudes pure dynamism – as befits the model's overall look.
Phoenix Arizona auto enthusiasts will appreciate that this vehicle, while a large step forward in performance and technology over it's predecessor, is designed from an aesthetic standpoint to be a statement, however dark and mysterious that statement may be.
Phoenix Arizona auto enthusiasts can view and test drive the new 2012 Porsche Cayman S Black Edition at any local Phoenix Valley Porsche dealer, such as Porsche North Scottsdale, located at 1800 North Scottsdale Rd, off of the 101 freeway.