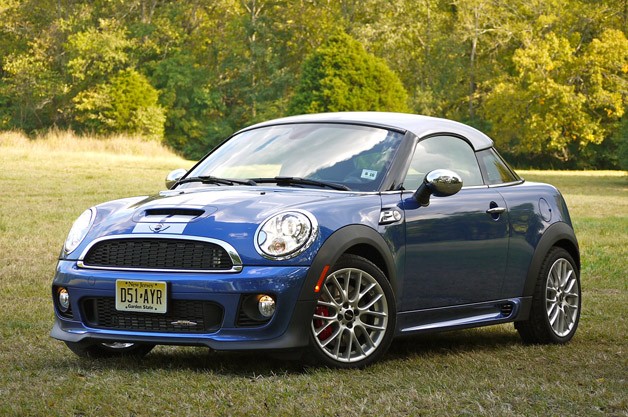 I have long argued that the Mini Cooper is one of the most versatile and high quality vehicles being manufactured today.  Whether is is a more feminine pink convertible, or a more masculine gun metal grey hard top, the Mini Cooper is a smart looking performance machine.  Now the Mini Cooper brand is branching out into a different body style, still very much a Mini Cooper, but different enough to appeal to a group of people who may not necessarily have been taken with the classic Mini design.
The 2012 Mini Cooper Coupe retains the classic look of the Mini while making large enough changes to be  called a sort of reconceptualization.  Most obviously, there's a completely new roofline and greenhouse, sitting higher than the classic Mini, while at the front of the greenhouse we find a windshield that's raked 13-degrees more sharply than the classic Mini.  At the rear is a sloping backlight punctuated at the top by a backwards-facing brim.  It's all rather far removed from the upright and boxed look of the standard hatchback and its near vertical rear window.
Working our way down from the top, we find large ovular headlamps, tall slab sides and short front and rear overhangs.  Up front is the familiar double-decker grille flanked by a pair of fog lamps, and the bulbous hood includes an air intake on models equipped with turbocharged engines. The rear is dominated by the slick new spoiler that automatically raises itself at 50 miles per hour.
The interior and engine have been completely reconceptualized as well, but we don't have time to cover all three aspects of the new 2012 Mini Cooper Coupe in one post, so perhaps we will take a look at other aspects of this new 2012 model in future posts.
Phoenix Valley auto enthusiasts can view and test drive any current production model Mini Cooper at any Phoenix Valley Mini dealer.  Phoenix Valley auto enthusiasts should plan on attending the Phoenix Arizona International Auto Show to learn about the most recent concepts and innovations from Mini, as well as the rest of the auto industry, taking place at the Phoenix Arizona Convention center over Thanksgiving weekend.