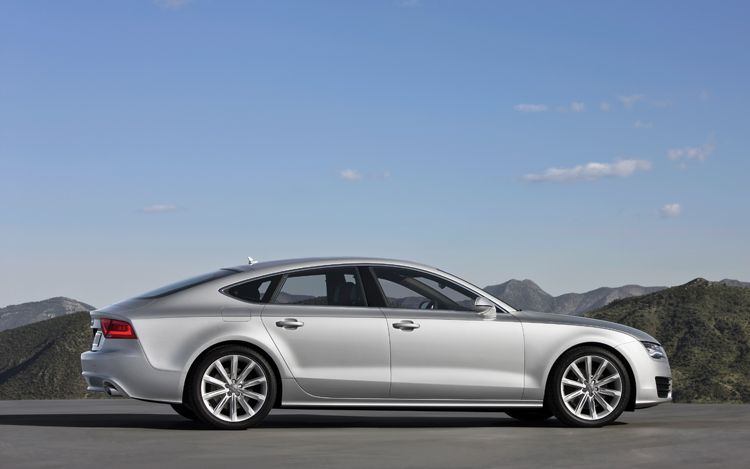 Last month at the New York International Auto show, Audi launched it's new 2012 A7 model.  Following the basic blueprints for the Sportback concept from the 2009 Detroit Auto Show, the 2012 Audi A7 combines the luxurious appeal of the A8 sedan, with the super sport styling of the A5 Sportback, creating a car that offers a broad appeal based upon quality design and craftsmanship.
While the first impression of the car does hint at quite a bit of Italian sport inspired romance, the vehicle retains a distinctly German look, appearing more high tech and future forward than lost in a state of reverie.
The all new platform features aluminum for the doors, hood, hatchback and the front fenders, while a high-strength steel in the side framing allows Audi to pass the pylon side-impact test, and produce a high luxury hatchback body shell that is stiffer and 15 percent lighter than the A6 sedan.  From an aesthetic standpoint, with short overhangs, coupe-like styling, and a wide stance,  the new 2012 Audi A7 resembles a sort of hybrid between a Porsche Cayman and a classic luxury Audi sedan.  It works.
The interior features sweeping wood inlays, while brushed aluminum details on bezels and controls complement the rich leather interior. The A7 showcases the new driver-oriented, wrap-around sky-liner concept, which seamlessly integrates the dashboard into the door panels and delivers an open, airy driving experience.   A leather-wrapped, multifunction steering wheel, thoughtfully placed displays and controls, and an elegantly designed center console, featuring a Google Earth based navigation system and MMI Touchpad technology, make for a quality user interface, media center, and telematics system that is in keen competition with the best in the industry.
The model Phoenix Arizona customers will find at Phoenix Valley Audi dealers will feature a 3.0-liter, twin-cam gasoline V6 with a Lysholm-screw, and a positive-displacement supercharger, with double overhead camshafts driven by cam chains set at the back of the block and in front of the flywheel.  All of this produces 296 hp at 5250 rpm and 325 lb-ft of torque at 2900 rpm, which accelerates the vehicle to an electronically limited top speed of 155 mph.  The vehicle goes from zero-to-60 mph in 5.5 seconds, and has a combined mileage rating of 28 mpg.
The 2012 Audi A7 starts at around $59k.  Interested Phoenix Valley customers should head on over to the Audi USA website, where a "build your own" configuration program allows the customer to mold the new model to a particular set of tastes and wants.
Phoenix Valley auto enthusiasts interested in the new 2012 Audi A7 can have a look for themselves at either Audi North Scottsdale or Audi Chandler when the vehicle hits Phoenix Arizona showroom floors later this year.