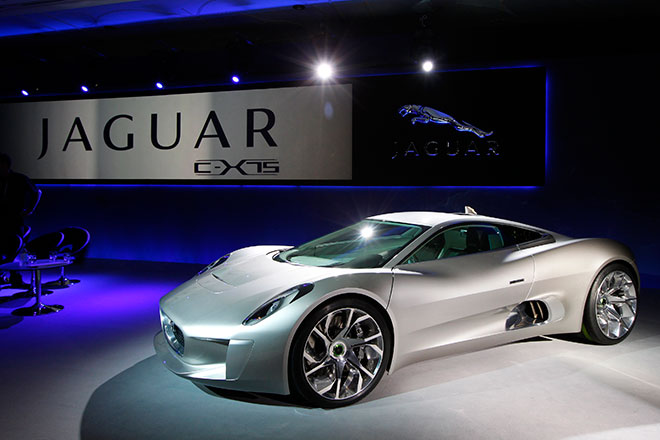 Friday Morning, London:  Jaguar announced it would build 250 examples of a car based on the C-X75 concept, the 205 m.p.h. hybrid unveiled at the Pairs Auto Show last September to great praise from the industry and public alike.
What makes this car so special?  Zero to 60 in less than 3 seconds and a top out north of 200 mph — yet emitting almost as little CO2 as a Toyota Prius.  That is what makes this car so special.
"People expect Jaguar to be innovators. That is when Jaguar is at its best," Adrian Hallmark, Jaguar's brand director, said in a statement. "The C-X75 received an incredible reception as a concept car. We've been building on that momentum and there is a clear business case for this exclusive halo model. No other vehicle will better signify Jaguar's renewed confidence and excellence in technological innovation than this."
The all-wheel-drive C-X75 will be equipped with a low-displacement, turbocharged internal-combustion engine and two electric motors, one at each axle.  In the original concept, the C-X75's 188-horsepower gas engine charged a battery pack, which in turn spun four 195-horsepower electric motors, one at each wheel.  As the final plans for the vehicle are still on the drawing board, Jaguar did not reveal output numbers for the production car's gas-electric powertrain.
With the amazing rate of performance vs lack of emissions, Phoenix Valley auto enthusiasts may forget to mention the fierce exterior design of this environmentally friendly beast.  It looks cool.
"We were always determined that the Jaguar C-X75 would be as striking on the road as it was in concept form," Ian Callum, design director at Jaguar, said in a statement. "This will be the finest looking and most innovative Jaguar ever produced. Even in the world of supercars, we can still produce the most beautiful."
When it ships in late 2013, the car will be priced from £700,000 to £900,000, roughly $1.1 million to $1.5 million at current exchange rates.
Phoenix Arizona auto enthusiasts can view the $1.1M Jaguar C-X75 Hybrid Supercar at Jaguar North Scottsdale when it hits showroom floors in late 2013.  As there are only 250 models being produced with the initial run, Phoenix Valley auto enthusiasts may want to consider taking a road trip to a nearby auto show, such as this November's LA International Auto Show, OR, keep an eye on this blog to see if Jaguar will be showing the C-X75 Hybrid Supercar at this years Arizona International Auto Show, taking place at the Phoenix Arizona Convention Center over Thanksgiving weekend.