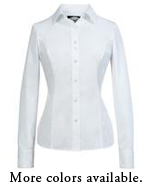 The biggest complaint I hear from shoppers is finding the right fit. We all want something that looks and feels like it was made just for you, but the reality is sizes are totally across the board. That's why I heart the Rebecca & Drew line of shirts, dresses and bottoms. The Rebecca & Drew tops and dresses are totally customizable so you don't have to worry about gaping buttons, extra material or extra-long sleeves.
When you log on to the Web site, www.rebeccaanddrew.com, you can shop for woven shirts, button-downs and dresses that are customized to your body. First select your body shape: you choose whether your curves are "soft and smooth" or "strong & confident." Then select your bra size from the drop-down menu. (This feature in itself is what has me totally sold and jumping for joy. I'm a 34D and a size 2 so yeah, it can be a problem sometimes.) Finally, select your height; whether you are under 5'5″ or over 5'5″.
A lot of the shirts and dresses come in an array of colors too, so there's plenty more to choose from than just your basic white button-down. After determining your size you can also choose from different options like whether you prefer a standard or french cuff, different fabric options, a standard or branded collar and there are even embroidery and monogramming options too.
For Valentine's Day, Rebecca & Drew will be offering a special Cupid monogram.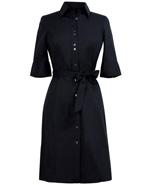 This Rebecca & Drew slimfit shirtdress is supercute and customizable too. It's the perfect outfit for a day of shopping or at the office with some ballet flats. The sleeves hit right at the elbows and the cotton dress is machine-washable too.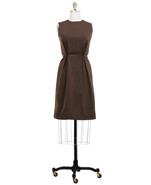 I also like this Rebecca & Drew "Aubrey" round neck dress. It's such a classic look. The dress hits right at the knee and there are hook & eye fasteners on the sides that create a defined waistline.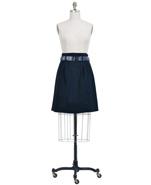 This Rebecca & Drew "Kelcie" high-waisted skirt is a classic too. It's navy blue and comes with a matching belt. The skirt hits right above the knee.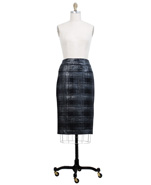 You can't go wrong with a pencil skirt as it's an absolute wardrobe must-have. This Rebecca & Drew "Mia" pleated waist pencil skirt is supercute and the exposed zipper in the back is ultrasexy.
The Rebecca & Drew line of clothes can be found at www.rebeccaanddrew.com. Tops can be purchased from $68-$298.  (Log on now, I saw a few cute ones on sale that are definitely worth it!)