So let's be honest, anyone who knows me knows I have one main color in my wardrobe…black. It's not that I don't like other colors, it's simply that having a closet that is ¾'s full of black makes getting dresses easy as pie in the morning and remind me that yes I too can be like Holly Golightly. For years I have dabbled in whites and pastels, but as a makeup artist, white never seems to be my friend.
Even though it's possibly the freshest and often sexiest summer look there is, I must say the very thought of it strikes fear in my stain-stick wielding veins. Of course now that we've past Memorial Day a little bit-o-white feels like the missing link in my ever dark closet Popsicles and iced mochas be dammed!
This season there are so many darling little white dresses just there for the taking so, if I can muster the courage I am jumping back in for the rewards of a summery white frock like this Lauren Moffatt number below. I was recently scanning one of my favorite sites Refinery 29 and found a crop of some of the most fun and flirty versions I have seen.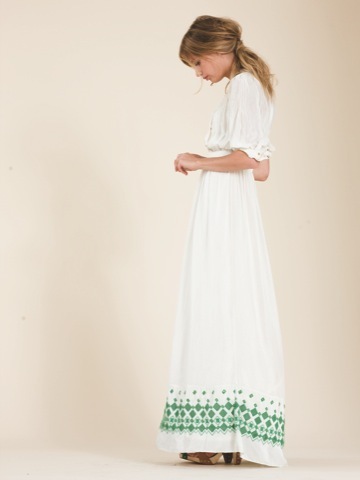 The good news is that almost anything goes…almost. Whether you love a maxi, mini, slouchy silhouette or print version there is something for everyone. When the temps reach over the century mark keep your fabric choices light and fresh, linens and cottons are the perfect pick!
So take a peek at these coveted looks compliments of Refinery 29!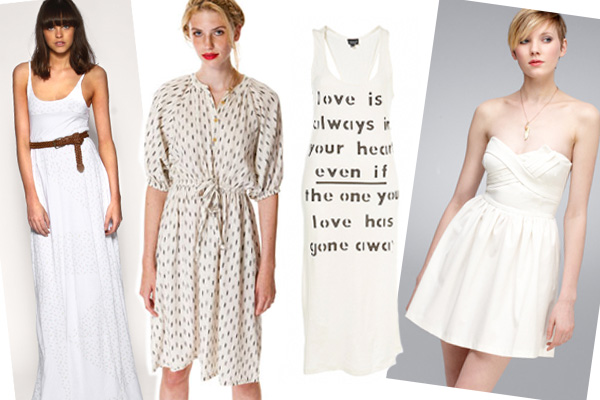 For the fashionista girl Try a slim maxi dress with minimal details like this Rosebud maxi from Seneca Rising Or this slouchy print shirt dress from Steven Alan : How about this statement making Love Slogan maxi dress from Topshop or for a more sassy look the Kennedy Sweetheart dress from Necessary Objects works well with flats, wedges or spectator flats..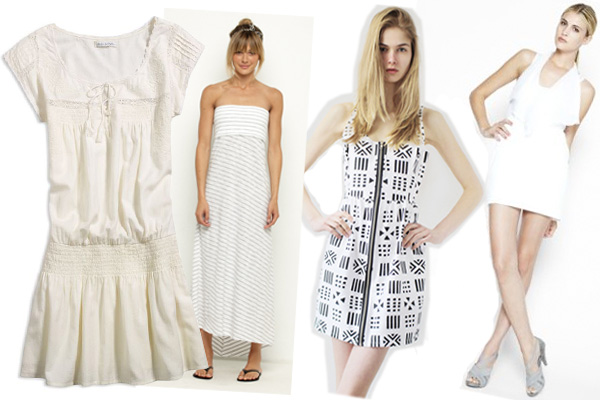 For the free spirit this lacy boho dress from American Eagle Outfitters is causal but chic and perfect for summer soiree's. Or this Roxy starfish convertible skirt dress a perfect traveling companion when you want to pack light, and this slightly structured Dusen Dusen zip up Dress available at I Don't Like Mondays. What about a flirty bib dress from BCBG Generation it's trying but not too hard…and we love that!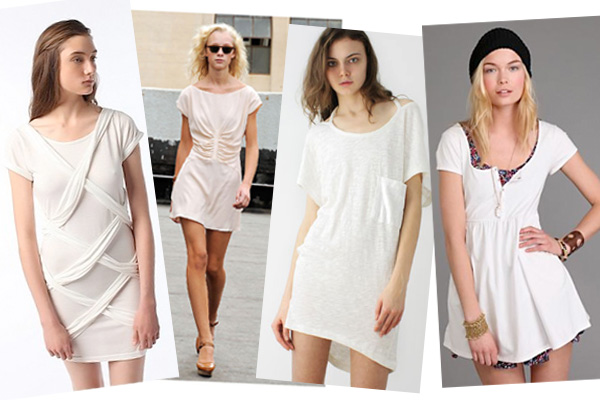 For the girl who loves to be casual chic I adore this sweet and sultry Mummified T-shirt Dress by Mink Pink at Urban Outfitters or this ruched number Rachel Comey named the low tide dress at Bergdorf Goodman, even better hang around the resort or beach in this sequin pocket T-shirt dress by Something Else or the comfy Free People weekender dress for Staycations and day trips.