Every day I am bombarded with scads of emails and newsletters, to the point that if the headline doesn't jump out at me, chances are that the emails will sit in my inbox simply stacking up until my server sends warning that I am dangerously close to a tragic email disaster from overabundance.
Yesterday, I noticed that Who What Wear was featuring the ever in demand Gwen Stefani as their guest editor. This one of course got my attention. After all who doesn't secretly (or not so secretly) wish they were Gwen from time to time? An insane sense of style –check, a hunky and talented husband – check, darling babies with even cuter names – check, an enviable music career – check, songwriting and designing talent – check…. You get my point.
And yet somehow Ms Stefani's down to earth accessibility always seems to be there… and lets not even talk about the always flawless makeup…. I mean really, red lips last about a whole five minutes on me until some sort of smearing or feathering occurs. I would have to say the girl has it all and then some!
So exactly what were her tops picks for the season? Edited from WWW, Take a peek, and I bet it won't take long until you are off with your Amex to the mall.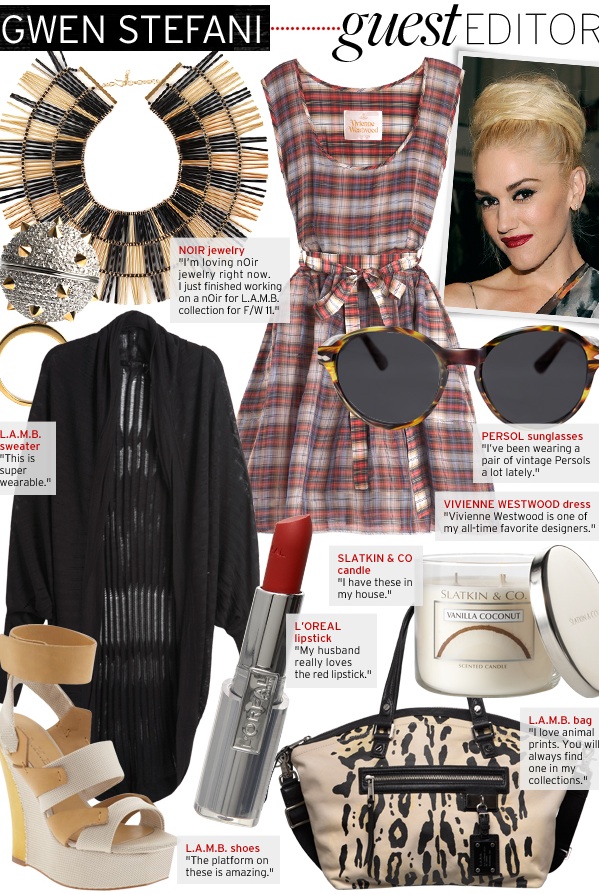 Vivienne Westwood Gold Label Gabion Dress ($1000)
Stefani tends to wear her own label in real life, for red-carpet appearances, but she often turns to Vivienne Westwood's impeccably crafted, always edgy confections. The full-skirted plaid dress has a bit of a rogue-pirate-meets-punk-rock vibe, which is in perfect keeping with Stefani's style sensibilities.
Persol Sunglasses ($235, 212.226.8276)
These tortoiseshell shades have a very similar shape and print to the vintage Persol 009's that Stefani has been seen sporting, plus they're actually available for purchase!
L.A.M.B. Trademark Audrey Leather Tote ($398)
As a self-professed animal-print lover, Stefani chose is this slouchy ocelot-patterned tote from her own L.A.M.B. collection—a fabulous item indeed. This large leather bag is lightly textured and a nice departure from the more traditional leopard, so be sure to pick one up today.
L'Oreal Infallible Le Rouge Lipcolor ($9.99) in Ravishing Red
Stefani is synonymous with red lipstick, so naturally we needed to include one in today's story. Best of all, the 10-hour long-wear formula is actually quite conditioning, so your lips never look parched.
L.A.M.B. Kapono Wedge ($325)
No stranger to extreme footwear herself, so we were expecting a bold shoe choice from Ms Gwen and we got one! We're honestly obsessed with these ivory linen and natural leather wedges, which boast a 5.5-inch wedge heel. Perfect for grounding a LWD or paired with slouchy, cuffed trousers, these sky-high wedges are a summer must-buy.
L.A.M.B. Cocoon Sweater ($325, 917.463.3553) in Black
One of the things we always admire about Stefani's day-to-day ensembles is all of the lovely knits she incorporates into her outfits. The long, draped shape and full-to-snug sleeves are decidedly more interesting than your average cardi!
nOir Spike Ball Pyramid Ring ($210)
When we think of Stefani's jewelry choices, we tend to imagine vaguely dangerous looking pieces that have a bit of a gothic touch, and this affordable ball spike ring from nOir exemplifies our assumptions! There's something a little medieval-torture-device about it, yet it's delicately done, making it a perfect tough-girl piece.
nOir Bugle Bead Collar Necklace ($285)
Stefani's other jewelry pick—this stunning collar necklace—is a knockout. While Stefani loves it in black/gold, as seen here, it's also available in clear/gold for those of you who are interested in a slightly subtler version.