Whether walking down Fifth Avenue in Manolos as Carrie Bradshaw in Sex in the City or in real life, Sarah Jessica Parker has established herself as a fashion icon. SJP's style both on and off the red carpet has inspired fashion and driven countless trends that only seems to get better with age.
In celebration of her 50th birthday today, here are some of Sarah Jessica Parker's best fashion looks.
 In custom Oscar de la Renta at the 2014 Met Ball in New York City
SJP wore a cut-out black Delphine Manivet Fall 2014 Couture dress with t-strap pumps from her SJP Collection to the 2014 Fashion Footwear Association Of New York Awards
No stranger to playing with color and mixing prints, SJP did both with success wearing a Preen Resort 2015 dress to the Lexus Design Disrupted event in September.
Effortlessly pulling off both an all-red ensemble and a cape at the presentation of "I Don't Know How She Does It" in 2011.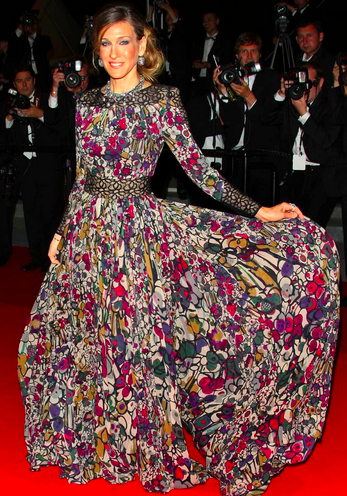 Wearing a stunning floral Elie Saab gown at Cannes in 2011.
There's always room for Carrie Bradshaw's enviable closet. SJP catapulted the faux fur trend after topping off her outfits throughout the show with a knee-skimming faux fur coat.