Growing up we rarely went out for Easter Brunch. I could probably count on one hand the number of times we partook in the holiday ritual. You see being Italian it's all about cooking and showing everyone how much you love them with a table ridiculously full of food. But last year the family decided that we would once again venture to some white table-clothed restaurant for a tad bit of benedict, pancakes, crepes or whatever was on the menu. I have to say I was somewhat taken aback by the dreadful display of fashion slothiness…is that the right word? I can never understand the causalization of America. It's a holiday, you are out and about…. Whatever happened to the frothy pastel dresses, the Easter bonnets, and let's just say we are forgoing the ties on men but…hello button up shirt…I mean, we are not on the golf course men!
In any case on some level I was disappointed that I wasn't seeing the Easter outfit parade of my youth. So just in case you are venturing out for an Easter egg hunt, Easter Mass or post church festivities please I beg of you…. Let's try something new like dressing for the occasion shall we?
In case there is a chill in the air on your way to service this sweet little floral coat from target.com is the perfect remedy. Wear it over a pastel sheath dress and you will definitely turn heads.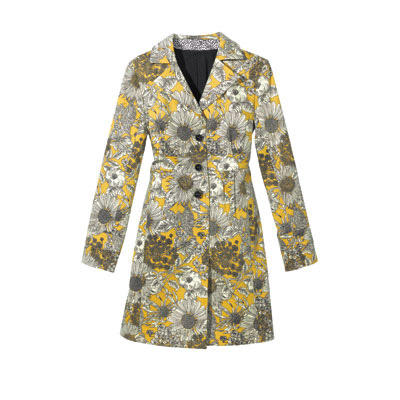 I love this Roulette dress, though it seems a bit much for day when worn under a robins egg blue cashmere cardigan by Tsesay it's the perfect combo for a holiday fete' Dress at macys.com
If you are not necessarily a bright color kind of girl Easter is the perfect time to wear yellow, that sunny cheerful color somehow doesn't seem so bright admist the excitement. This Old Navy dress is so adorable and won't break the bank. oldnavy.com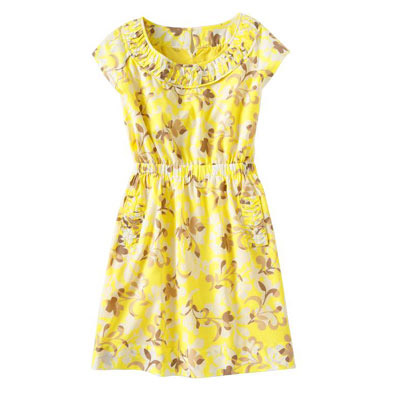 Or how about this little floral number by Steve Madden, pair this with a fuzzy little pink sweater, so girlish and fun.
I also love these frilly flats by Kelsey Dagger, they couldn't be more flirty and fresh and the neutral color means they will pair well with just about anything. Endless.com
And if your not the type to wear a hat perhaps a decorative little headband instead. The pink one from Betty Mars Latex is available online at liberty.co.uk and the eggshell pouf is available at forever21.com after Easter throw one on with a casual dress for an instant pick me up.