Maybe it's the warmer weather that beckons me, or perhaps it's the fact that life and work have become so busy that I don't have a spare second to search for anything let alone that missing shoe or bag in my closet. The fact is it's time for spring cleaning… and in this house that means starting with my closet. For some reason, because I am a stylist people assume that I have amassed a wardrobe that is filled to the brim with fantastical designer goodies. But really, the fact that I am a stylist and a makeup artist who spends most of her days on set or on location means that I am not sporting anything fancy. Believe me running around the desert carrying the back of a models gown or getting down on the ground and fixing her hemline like I will be today does not scream of glamour… and wearing some serious Rag & Bone or Stella McCartney would be just insane. None the less, my closet does get full of practical stuff like J Crew colored denim and Rachel Roy tops and BCBG dresses which all eventually need to be organized. I ran across these great tips on Who What Wear's blog and added a few of my own in two parts for anyone else who might be in the closet purging mood! So start here and then check out tomorrow posts for part two of how to organize and store your clothes!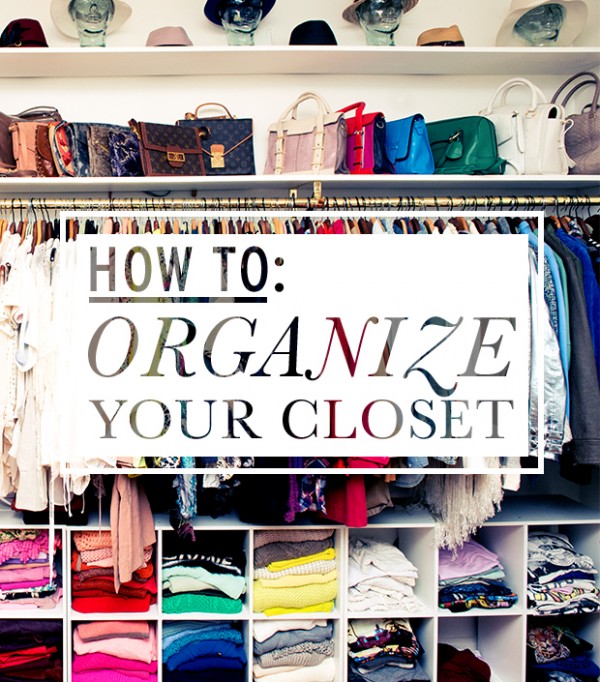 From Who What Wear
The task of de-cluttering your wardrobe can be overwhelming though, so we've enlisted the expertise of Andrea Rapke, Founder of The Organized Move, and Melanie Charlton, CEO and Creative Director of Clos-ette. Read on for tips and tricks from these two professionals and soon you'll not only have clothes that are well maintained but also an orderly closet, like the one above from our friends at The Coveteur.
Step #1: Get Rid Of Your Old Clothes.
It might not be easy, but tossing out or donating old clothes is key to making room in your closet. "I advise my clients to donate anything they haven't worn in more than two years that has no intrinsic value," Rapke says. "Also, if it's two sizes too small or two sizes too big, get rid of it. It's time to buy new clothes." Charlton adds, "Ask yourself if you'd buy this item today, or if it has a sentimental factor that warrants storage."
Diane Tip: The easiest way to do this is to make three piles – keep, toss, and repair. Don't dwell on decisions, go with your gut and pile, pile, pile without remorse.
Step #2: Call The Pros—Or Find Your Own Storage Solutions.
If you're interested in hiring professional help to organize your closet, it may be more affordable than you think. "A custom closet is a luxury that many of us can afford," Rapke says. "Even the major closet companies can design what you would like on a budget." But if that's not an option, Rapke suggests using storage units that allow you to see your clothes and accessories. "If you can't see it, you don't wear it!" she says. "Elfa is available at The Container Store and provides some excellent items. Use Slimline Hangers; your clothes won't fall off and they give you twice the space of wood and plastic."
Diane Tip: Using cute storage solutions like hat boxes or pretty containers help create a space that you want to keep clean rather than a closet that looks more like a laundry pile. Even Target has some really cute color coordinated storage answers to help keep things stylish.
Step #3: Start Organizing.
How do you organize sweaters versus lingerie or shoes versus jeans? There are different solutions for each, so check out how you can start de-cluttering your closet on tomorrow blog.
Photo: The Coveteur
Source: Who What Wear