After graduating college when I first started working, my wardrobe situation was incredibly frustrating. In fact, I clearly remember not being the only one of my friends who consistently suffered from having absolutely nothing to wear. My closet was filled with clothes mind you, and so was theirs. But the problem was it was filled with College-attire. ASU attire to be exact which if you were a Sun Devil you very well know consists of jeans, flip flops, wife beaters and maybe a pair of ASU shorts or two. Not exactly the kind of thing you could show up to the office in.
It was then that I realized that building a true "grown-up" wardrobe was something that happened over time, not overnight. But if you aren't armed with tons of disposable income, as of course most College-grads aren't, there are a few essentials to own that will make your life that much easier. And, since you'll be hanging on to these items for years and years, I'd definitely consider making a good investment in classic pieces that will last.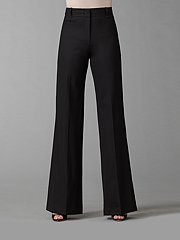 A pair of black slacks is definitely the first thing to invest in. They're classic and go with anything and transition really well if you're going to any day-to-night functions. I like these BCBG Max Azria pair for their wide-leg cut. $208. Saks Fifth Avenue.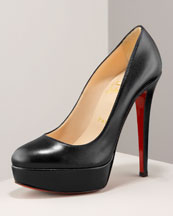 A pair of black pumps like these Christian Louboutins will take you through the entire workweek and the weekend too. They're perfect for your slacks, pencil skirts and dresses too. $735. Neiman Marcus.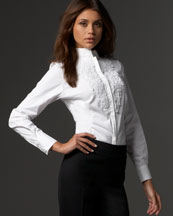 A crisp, white button-down is also an absolute-must. They can be tucked into slacks, skirts and layered under sleeveless dresses too. Lafayette 148 button-down blouse, $248. Neiman Marcus.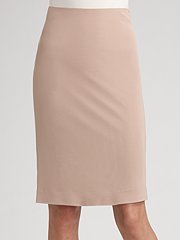 One of my favorite work pieces is definitely the pencil skirt. Since I live in Arizona if I was picking up one I'd go with a khaki color since you'd get more use out of it throughout the year. For East Coast-dwellers I'd go with a gray. Fendi pencil skirt, $575. Saks Fifth Avenue.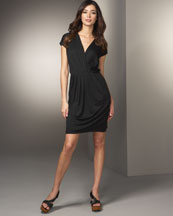 A black wrap dress is as essential to your everyday wardrobe as it is to your work one. This DKNY black wrap dress is a great example. You can mix it up by using different accessories, shoes and experimenting with belts and cardigans too. $175. Neiman Marcus.
Even if your office environment doesn't require suits, a blazer is a must-have piece you should definitely consider. It can dress up a pair of trousers on casual Friday and there's some relaxed-looking blazers like this Elizabeth and James one from Bloomingdales that still offer the feel of professionalism without the uptight look. $395.
Need more tips on building a wardrobe? Check out these previous posts, here and here.