It was a crazy wonderful time at New York Fashion Week. If you follow me on Facebook or Twitter you may already know that I had the absolute privilege of meeting one of my childhood idols Joan Rivers. Though many are quick to judge, and say what you will, but the woman is class and wit and charm and warmth all rolled into one. She could not have been more kind to me… and watching her interactions with others showed that warmth truly was authentic. Excuse the blurry photo, but being a short girl I generally have two strikes against me a) press are tall! b) I only carry my iphone not a real camera…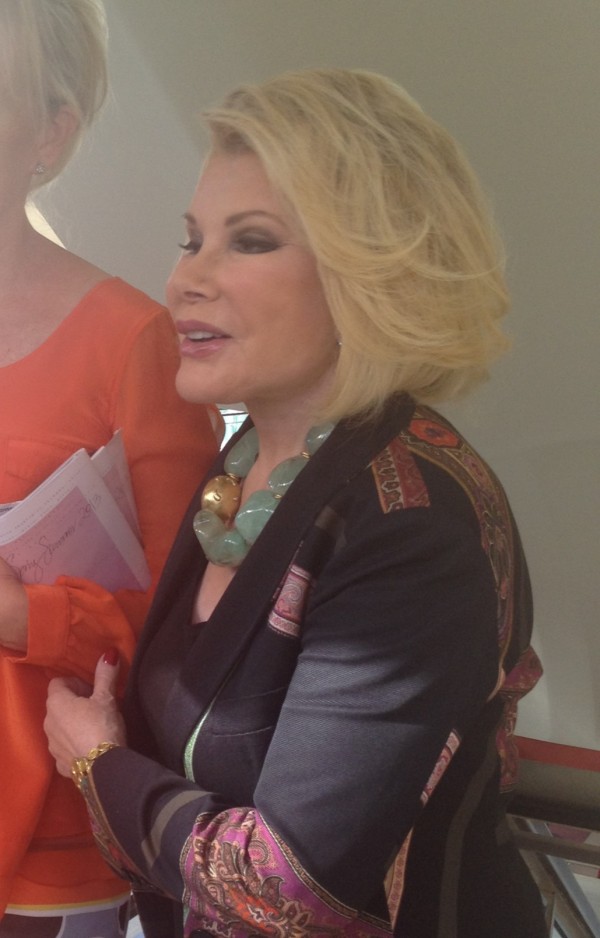 But this is about fashion is it not? So on to some shows, I loved the Tory Burch show. Where the theme was global chic traveler. There were tye-dyed pieces made by women artisans in Guinea as part of the work that Tory does with her Foundation. There were many artsy touches like raffia, fringe, beading and more but the shapes of the silhouettes were completely wearable and flattering like a sixties style dress or a pretty little tunic. Her long dresses were to die for.; slinky or flowy and artistic all at the same time. The palette was also cheery but not overly in your face, which some designers tend to do for Spring. I also adored the double fishtail braids and the shimmery skin which was more evident in person than in pictures, done respectively by Eugene Souleiman and Diane Kendal.
I would love to talk about all the shows but I must mention Marchesa. Keren Craig and Georgina Chapman two of the most stylish and beautiful women ever were inspired by the sixties, no not the charming sixties a la' Audrey but the spiritual sixties a la' the Beatles meet the Maharashi. The collection was a departure from what we usually see from the duo in that there were a lot of literal inspirations from India… so much so that one editor cited she expected the models to break out in a Bollywood dance. Still there were pieces with a lot of elegance and that's what I covet about Marchesa. There were exquisite adornings and embellishments of gold, lots of draping and flowing fabrics and even some bare midriffs… truly I felt transported. I will be curious to see how this collection fares in comparison with others from past seasons.
If I had to sum up a few tid bits from the shows in five words I would have to say… prints, pinks, global, braids, and bold.
Photos: WWD