Friday is here and I am more than elated that Mercedes Benz NY Fashion Week Spring 2010 is in full swing! Limited shows kicked of on Wednesday and will run through the 17th. First out of the gate were Jenni Kayne (a personal fav of mine) Helmut Lanf and Rachel Comey. Today's shows include Yigal Azrouel, Charlotte Ronson and Nicole Miller among others. Stay tuned fashion plates because we will cover more on the latest and greatest next week!
Hopefully, some of this weeks tips encouraged you to purge your closet either physically or mentally and to find your own signature style before hitting the mall. To round out last week How to Make Your Wardrobe Last Longer here are a few remaining tips on how to care for your handbags, shoes and specialty items!
Handbags
To keep buttery leathers in pristine condition apply polish regularly and avoid overstuffing (yes this one made me gasp too) which can cause permanent stretching. For suede try using a suede brush periodically to lift dirt and keep the nap looking fresh. Patents can also get a boost from a touch of white (not apple cidar) vinegar applied with a cheesecloth and wiped clean. Any other handbag fabrics like silk, canvas or cotton should be taken to a professional for cleaning. If your bag develops a sticky zipper give the teeth a quick rub with some dry candlewax (not nelted!!!) then wipe down to remove excess. Good handbags (or any that you want to last) should be stored in cotton or canvvas and cotton blend, if you don't have the right dust jackets on hand old pillow cases or t-shirts work well, tie them at the top to keep dust out.
Shoes
We tune up our cars and regularly maintain them but our shoes are an even more overworked form of transport so don't forget to treat them with care! When you purchase a new pair if possible buy the proper shoe cleaner at the same time this will ensure that you always have it available when you need it. A good cobbler (a shoe fixing guy or girl) is just as important as a good tailor. I once borrowed shoes from a friend for a photo shoot in the desert and was astounded at how practically back to new and scuff free they looked once my shoe guy was done with then. Any time you buy an expensive pair go to a cobbler and have them put a thin rubber tread onto the sole this costs about $25 on average but if it means saving those $600 Manolo's then it's priceless. Any pointy – toed pair will benefit from this trick. Take a cue from the guys and polish leather shoes regularly to keep them looking their best. Store your heels in their original boxes if possible instead of closed plastic containers (this traps air and can ruin shoes). Avoid storing dark and light shoes right next to each other in case the color bleeds or shoes get wet. Also invest in shoe trees to maintain the shape of your shoes.
Embellishments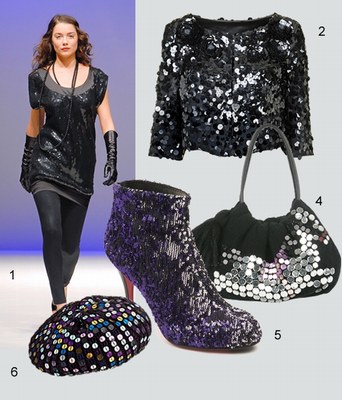 These days sequins, beading and rhinestones on clothes can the norm and they need to be treated with the utmost care. Not every dry cleaner can handle the unique challenges of these accoutrements. If sequins or beads are glued on rather than sewn you might be in a world of mess, ditto for any beading made of glass so be sure to discuss it with your dry cleaner prior and ask for any extra precautions to