Fashion week has swung fully into effect and despite the tumultuous weather, the sad new of designer Alexander McQueen's passing and the pressures of the economy designers are proving that this season has much to be thankful for.
Ralph Rucci the couture master turned out a fabulous show in the tradition of the original Couturiers like Balenciaga and Chanel by holding the presentation in his own Soho Ateleir. As always the remarkable technique and impeccable sewing of Rucci and his team were evident in dress after dress, coat after coat, blouse after blouse etc. Every piece in the collection as painstaking and breathtaking as the one before it. I always say if I had money to spend it would be on Rucci…period!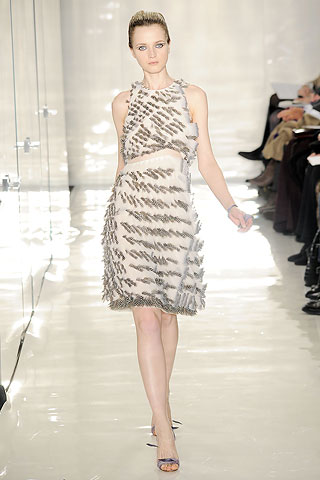 Vena Cava hipsters Sophie Buhai and Lisa Mayock showed a gorgeous collection full of super fresh details blended with a late seventies vintage vibe. Plenty of shirtdresses, layers and ribbed knits along with jumpsuits and coats turned heads at this show. The VC girls have their finger on the pulse of cool. And the styling alone made me want to buy it all. So hip, so cool so sophisticated.
Apparently L.A.M.B.'s Gwen Stefani ran into a few 911 fashion emergencies right before the show. The frightful weather caused a few delays in shipping but the masterfully creative Gwen tackled the problem head on with her team and the result was pure rock and roll girl. As expected Stefani stayed true to her favorite influences fifties, military, vintage etc but as with each season she continues to surprise and delight. I especially loved the slinky fabrics and leather pieces.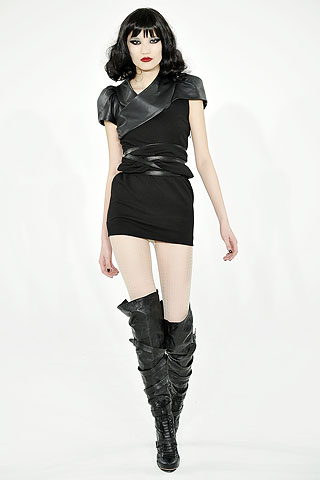 BCBG went in a "practical" mode this season showing their answer to the recession. Lubov Azria told reporters that the economy made them "realists" now they are showing pieces that are about the customers fantasy not their own. Smart move if you ask me. Though BCBG always appeals this season pieces seem to have more of a street-chic vibe rather than the sex kitten or party girl of seasons past. Starck shades of black, putty, yellow and navy lend a dramatic flair to the chicness of it all.
I can't skip Erin Wasson x RVCA the model turned designer has a fearless sense of style and is an arbiter of cool for sure. Her edited collection included a heavy list of tee shirts and glam rock details. This line though fun and hipster is definitely for the downtown girl.