In case you missed it the Tony Awards took place on Sunday night in New York City at the famed Radio City Music Hall. As a kid I loved to watch every single awards show that came on, but the Tony's were often an up and down affair depending on who was headlining, but let me tell you, this year, it wasn't your Grandmothers awards show. Because movie production has slowed in tinseltown many an celluloid celeb has headed off to the Big Apple and back to their theater roots. like winners Scarlett Johansson, Catherine Zeta Jones and Denzel Washington. This year with the addition of shows like Glee there were plenty of things to rejoice about and even Jay-Z and Beyonce were in attendance. The jokes were funny and the performances were equally enticing, but of course my favorite part of the evening….the red carpet. It was an especially rainy night in NYC and the A-listers braved the open air red carpet with ease and none looked the worse for wear.
Perhaps my favorite look of the night was worn by the ever emerging glamour girl Lea Michelle from Glee. As time goes by she not only seems to be looking more svelte but more sophisticated too. The It girl is either super smart or has a genius agent who books the best stylists for her! Her marigold Zac Posen fishtail gown was an absolute knockout. It reminded me of Michelle Williams at the Oscars in 2006. The red lips and soft updo worked like a charm for both of them.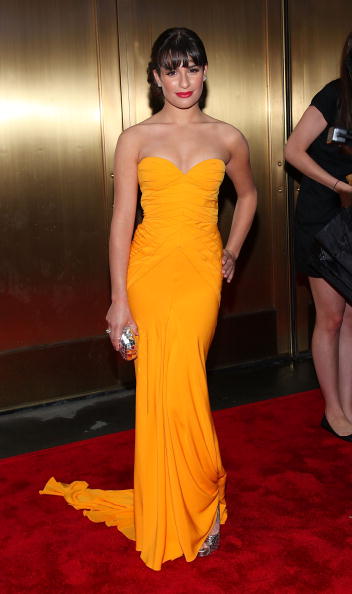 And speaking of knockout, Scarlett Johansson looked beyond incredible in her Ellie Saab beaded gown with a plunging neckline, but how could you go wrong with that figure? And I loved her fresh pretty makeup and sleek hair, everything worked together without being too dramatic.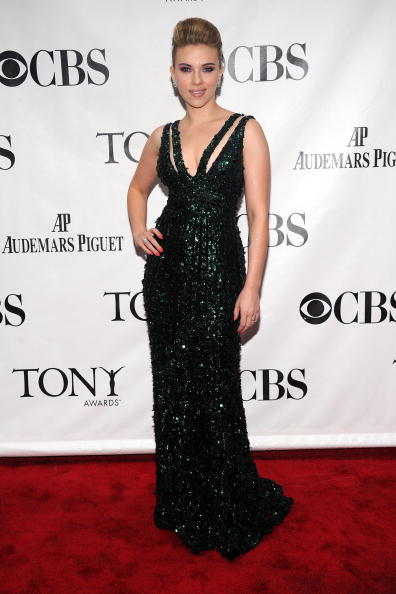 I also thought that Naomi Watts looked gorgeous in her Rouland Mouret gown, it was reminiscent of a Joan Crawford silhouette but updated and figure flattering.
Cate Blanchett was beating to her own drum in a slim silver pants suit by Armani Prive'. She looked as chic as ever, but I wasn't too sure about the shoes…were they silver, were they white and were they too much?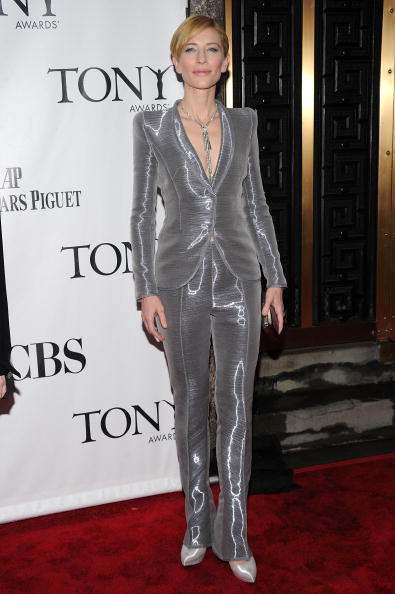 Another trend setter for the evening was Jada Pinkett Smith in a berry colored Marchesa dress with pretty little tiers and pleats to show off her fit gams. The Smiths produced one of the most winning shows of the evening "Fela".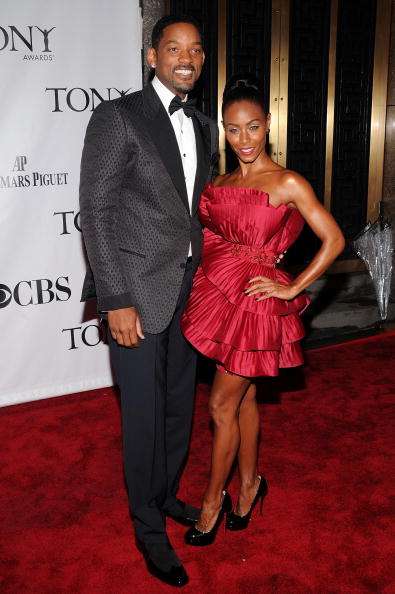 Over all I thought this year was one of the best Tony shows and red carpets that I have seen in years!