You know the saying it takes a village to raise a child? Well it also takes a village to get celebrities ready for the red carpet. Last night the 2010 Emmy Awards took place in Los Angeles. Hosted by Jimmy Fallon (wasn't that opening "Glee" number just great?) the evening was filled with a few surprises (Breaking Bad) but also a few expected wins like Modern Family, Glee's Jane Lynch and of course Kyra Segwick of The Closer, but most importantly lets get to how they all looked.
I watched the show from a rather unusual spot last night, instead of enjoying the lazy comforts of my own living room, I was perched notebook in hand with my two cohorts Ginger and Melissa watching from a newsroom conference table ready to share our thoughts on the good, the bad and the ugly on KPNX Channel 12's post Emmys extra show.
And of course the red carpet never disappoints. Strapless and asymmetrical shoulders were all the rage. One of my top favorites from the evening was Claire Danes. She looked gorgeous in her Armani Prive' gown covered in shimmering crystal beading, and her hair and makeup, with soft bouncy curls and shimmery bronze eyes paired with rosy pink lips and cheeks created the perfect head to toe look, It was nothing short of perfection.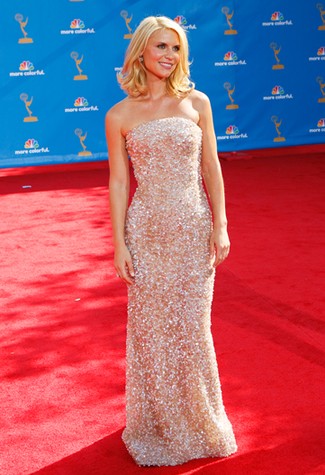 Another favorite who always looks stunning on the red carpet is Mariska Hargitay. This woman gets the term "Hollywood Glamour" remember that yellow number she wore two years ago…to die for! And last night she looked amazing in a curve hugging strapless ivory gown with gardenias adorning her perfectly coiffed updo.

I also have to give props to Julie Bowen from Modern Family. She really shut it down with her gorgeous Ali Rahimi strapless ruffled gown paired with a smokey eye and half- up hair do. I thought she resembled Heidi Klum just a tad.

Of course there's Leah Michelle from Glee who always looks ridiculously gorgeous at every awards show. Her Oscar de la Renta ruffled number was insane, and though I wish that her crystal choker didn't seem to be really choking her it was a beautiful statement none- the- less.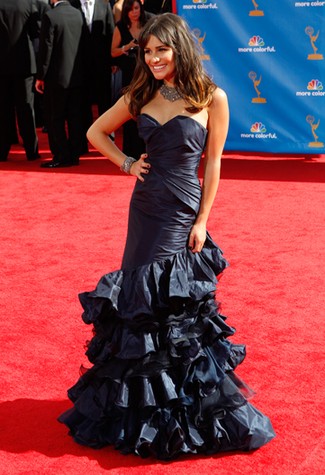 I have to mentioned Kyra Segwick again, she seems to be reverse aging does she not? Her Monique Lhullier burgundy gown looked amazing paired with a casual cascade of curls and deep berry lipstick.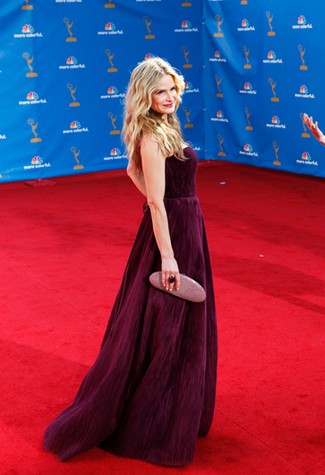 And I can't leave out Sofia Vergara from Modern family, this women is not only breathtakingly beautiful but she is hysterical. She wore a lighter than air Carolina Herrara strapless gown in pale yellow with silver and gunmetal sequins down the front. And of course the plum shadows and berry toned lips played perfectly with her tan skin and chocolate brown locks.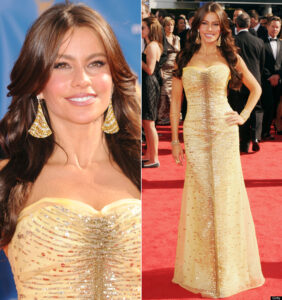 Of course these ladies were not the only ones who did the red carpet right, so I am saving a few more of my top picks for tomorrow…that is before we dish the dirt on the thumbs downers.