Last night Style Files was invited to the B Brian Atwood launch party at Saks Fifth Avenue at Biltmore Fashion Park. It was a fabulous night full of fabulous shoes! Guests were greeted with champagne, chocolate covered strawberries, a DJ and believe it or not, shoes served on a silver platter carried by an attractive male model. The pre-fall and fall collections were also available for guests to pre-order. So now on to the shoes… the gorgeous shoes…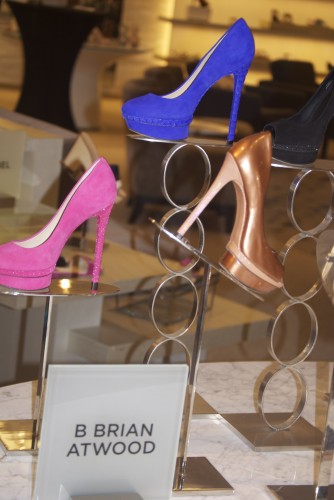 B Brian Atwood is a contemporary line made up of a mix of Upper East Side Poshness, Downtown cool, along with a Parisian sophistication; Inspired by the globe trotting fashionista. Each design incorporates sexy and aggressive silhouettes.
Atwood's newest line has something for everyone and for every budget with shoes starting at $295.
One of the favorites of the night were these 'Florencia' glitter-coated, suede, peep toe platform pumps, which come in a pop of pink, a deep purple, and gold, plus they are sold exclusively at Saks Fifth Avenue, $350.(pictured above)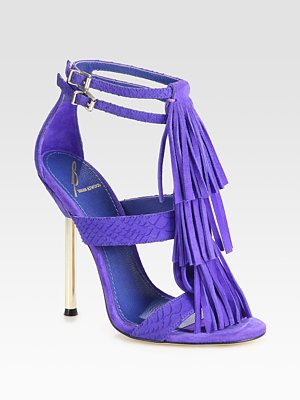 Another popular look was this pair of purple snake-print leather and suede fringe sandals, better known as 'Luciana.' Add a shiny lacquer heel and these are the perfect going out shoe! All of the B Brian Atwood shoes are from the resort collection and are available at your nearest Saks and online at saksfifthavenue.com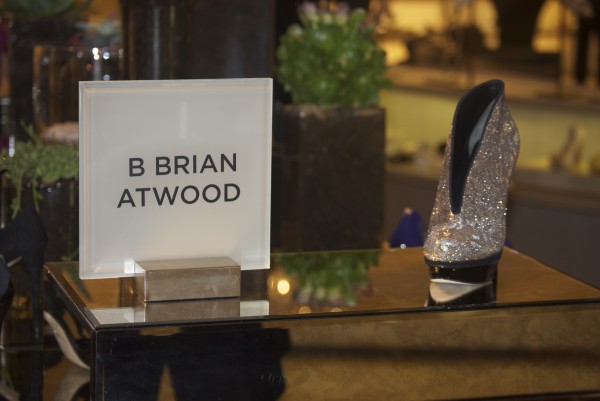 Pre-fall and fall from Brian Atwood's namesake collection were available for pre-order. Booties, like this animal print pair, were at the top of the list with sparkle and immaculate detail—the prefect example of Atwood's champion of both modernity and drop-dead glamour, bringing his impeccable creations to life with an added jolt of raw sex appeal.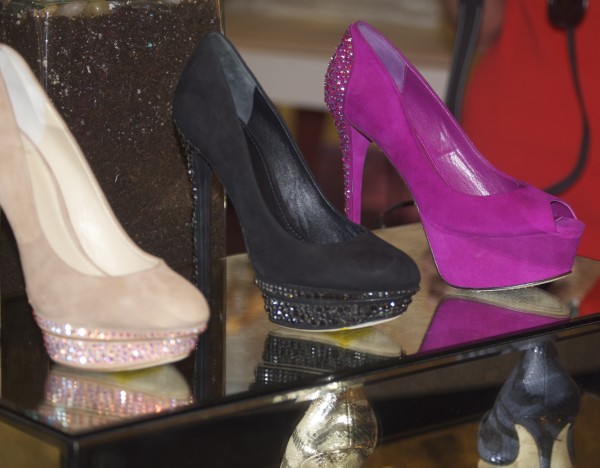 I am positive that there was not one shoe that didn't have guests oohing and ahhing, but certainly no one could take their eyes off of the pre-fall beauty that is 'Baccina' in berry, $395. The Brian Atwood Representative shared with us that this color was Atwood's personal choice and that the crystals are hand placed. Have you ever seen a more gorgeous pair of shoes?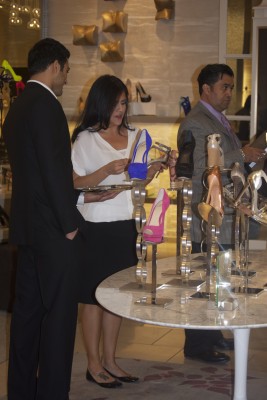 Pre-Fall collection will be available in May and the Fall collection in July/ August, but if you can't wait be sure to stop in and pre-order all of your must-haves.
Saks Fifth Avenue – Phoenix
2446 East Camelback Road
Phoenix, AZ 85016
Thank you to the team at Saks Fifth Avenue for putting together a great evening.
By Kristianne Young