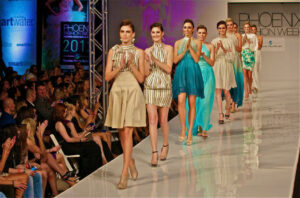 SCOTTSDALE, Ariz. (October 1, 2013) – The 9th annual Phoenix Fashion Week at Talking Stick Resort gets underway today in Scottsdale with high expectations for attendance over the course of four fashion-packed days and nights. Events kicked off this morning with Phoenix Fashion Week's annual Media Invitational Breakfast, attended this year by more than 400 local and national news media organizations, the most ever to participate in the event. Tonight, more than 500 guests and celebrities will don pink ensembles for Phoenix Fashion Week's annual Fashionably Pink Celebrity Runway Show at Domus PHX, a pink-inspired charity celebrity fashion show benefiting local breast cancer foundation 'Don't Be a Chump, Check For a Lump.' Later this week, thousands of style enthusiasts are expected to line the runways for Arizona's largest fashion industry event at Talking Stick Resort.
Starting Thursdays, the stage will be set for 27 breathtaking established and emerging designer runway shows, fashion education seminars, celebrity sightings, glitzy after-parties and world-class shopping at Phoenix Fashion Week's signature Style Villa shopping experience each night.
Over the last several years, Phoenix Fashion Week has experienced immense growth shattering its annual attendance record year-over-year, with more than 6,000 attendees at Talking Stick Resort 2012, doubling online ticket sales over 2011 and receiving a prominent feature in international magazine TIME. This Arizona-based fashion industry event has established itself as a top contender among other fashion events around the nation and has garnered the attention of like-minded power house brands.
"Phoenix Fashion Week continues to grow because of the tremendous support the organization receives from key local and national industry partners," said Brian Hill, Executive Director of Phoenix Fashion Week. "Ultimately, it is our goal to serve as a launchpad for up and coming fashion designers through a variety of essential programs our partners help cultivate,'" he said.
This year's sponsor and partnership roster includes top-tier companies and brands alike, including:
No7 Cosmetics and Skincare – As the UK's #1 Beauty Brand, No7 brings their British influence across the pond as Phoenix Fashion Week's 2013 Official Beauty Partner and Title Sponsor for the signature Fashionably Pink Celebrity Fashion Show. Currently, Boots No7 Cosmetics and Skincare for men and women is sold in Target and Walgreens store nationwide.
TONI&GUY Hairdressing – As an internationally recognized style icon known for uncompromising quality, the latest trends and techniques, TONI&GUY is the Official Hair Salon of PHXFW 2013 and will be responsible for the stunning hair and makeup looks that compliment the designer fashion shows.
Zappos – Since their partnership began two years ago with PHXFW, one of the largest fashion e-commerce platforms in the world continues to support the Emerging Designer Challenge and provide a platform for PHXFW's designers to sell direct.
FIDM – Phoenix Fashion Week welcome's the New York City-based Fashion Institute of Design & Merchandising as the official presenting sponsor for The 'Business of Fashion' Seminars for 2013, including a trend forecasting seminar presented by a FIDM instructor.
Fiat – As the modern symbol for Italian design, FIAT is quickly becoming a force to be reckoned with in fashion, recently partnering with Jennifer Lopez and Condé Nast. The brand's fashionable, limited-production lifestyle cars for the discerning customer will be on display this year as the Official Car of PHXFW 2013.
Uber – As one of the fastest growing tech companies in the country, UBER's on-demand luxury car service via a smartphone app will serve as the fashionable way to arrive in style at Phoenix Fashion Week for VIPs and attendees.
"Phoenix Fashion Week is setting our sights on a global fashion market, and it only makes sense to align with brands of this caliber. It 100% helps to push Arizona, fashion forward," said Executive Director Brian Hill.
Always remaining true to its commitment of bridging designers and buyers, and preparing fashion designers and industry professionals for successful futures in the business, Phoenix Fashion Week's glitzy four-day fashion extravaganza at the Domus PHX and Talking Stick Resort aims to continue to advance Arizona's reputation as a national fashion hub with dramatic productions likened to the renowned New York Fashion Week fashion shows featuring exquisite lighting and sound production and an emphasis on retail buyers, fashion industry media, and connecting new brands with key tastemakers, bloggers and savvy fashionistas each night of the event.
Designers showcasing at Phoenix Fashion Week will present their collections in a variety of fashion categories including men's and women's ready-to-wear, contemporary, couture, swimwear, eveningwear, bridal and accessories.
Phoenix Fashion Week 2013 Highlights:
"Fashionably Pink" Celebrity Fashion Show benefiting local breast cancer charity Don't Be a Chump Check for a Lump at Domus PHX (domusphx.com) on October 1st
27 Established and Emerging Designer Fashion Shows taking place exclusively at Talking Stick Resort on October 3rd-5th, including Project Runway contestant Bradon McDonald and a finale showcase by Filipino couturier Ricky Gathercole
Style Villa shopping experience featuring Straight-from-the-Runway clothing and accessories by Phoenix Fashion Week designers and pop-up shops by local vendors
Business of Fashion Seminars for next generation industry professionals presented by FIDM and hosted by top fashion industry and corporate executives
Cabana "Log-In Lounge" Blogger and Media Hub presented by Cabana Modern Apartment Homes
Phoenix Fashion Week Emerging Designer Contest
Model of the Year Contest
Glamorous after party and concert by pop star Yasmeen hosted by private jet company Pinnacle Aviation in the Talking Stick Resort Showroom on Saturday, October 5th
The event is open to the public. Tickets are required for each night of fashion shows ranging from $30 for general admission to $150 for a VIP seat. The Phoenix Fashion Week After Party on Saturday, October 5th is free and doors open to the public at 9:30pm. Fashion Week tickets can be purchased exclusively through www.phoenixfashionweek.com.
For more information about Phoenix Fashion Week or to schedule an interview, please contact Melissa Rein. B-roll footage and images are available upon request.
Please note: The official title to be used in all reporting is Phoenix Fashion Week at Talking Stick Resort. Media covering Phoenix Fashion Week and live blogging from the events are encouraged to use Phoenix Fashion Week's official Twitter handles and hash tags: @PHXFashionWeek, #phxfw #phxfashionweek and #fashionablypink.