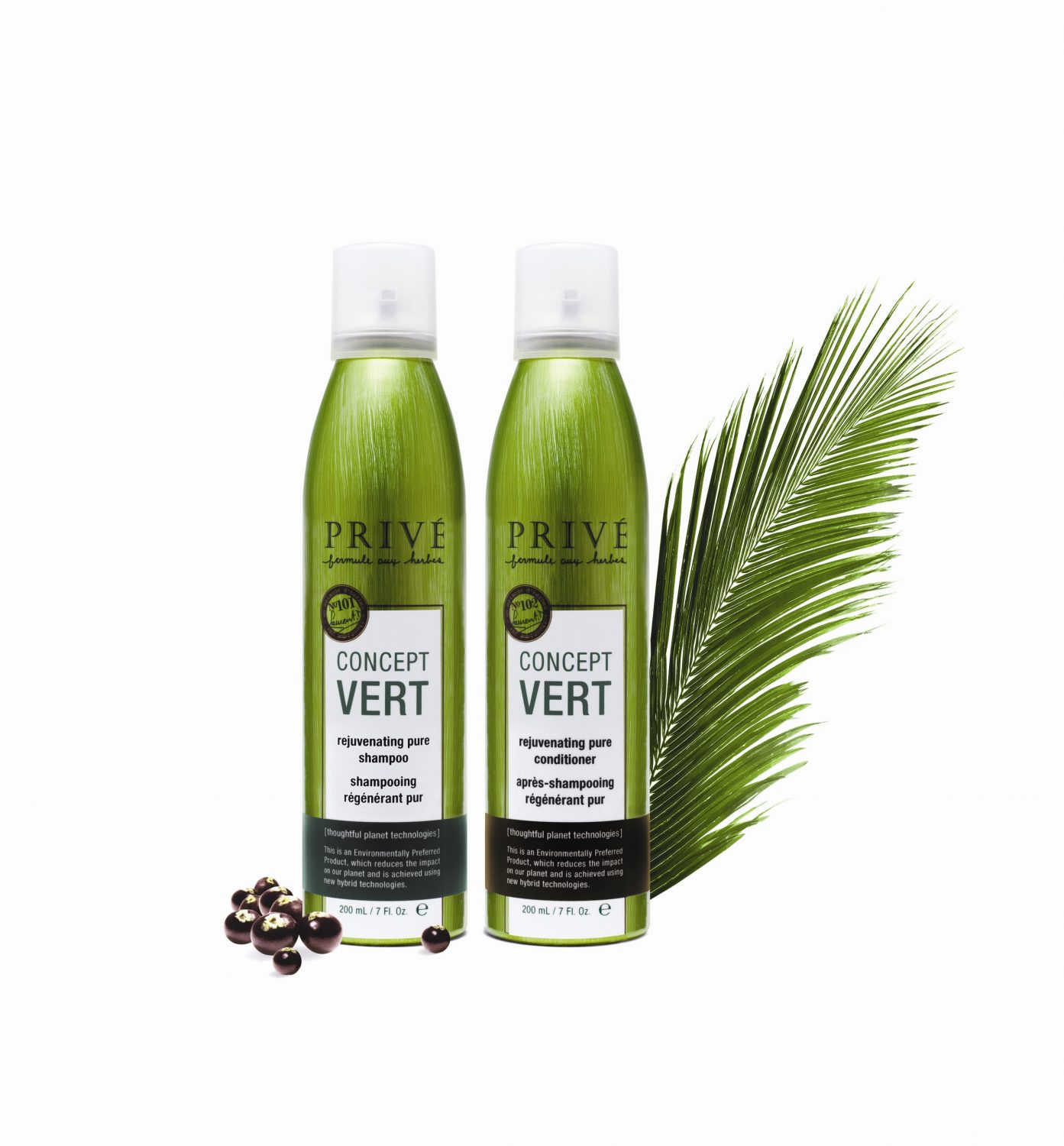 Everyday, there's about a hundred million new beauty products released. I know because I receive the press releases on about half of those. So it can be hard to discern the good new stuff from the not-so-good new stuff. 
Recently, two new products, Prive Concept Vert Rejuvenating Shampoo and Prive Concept Vert Rejuvenating Conditioner were brought to my attention and I have to say, I was pleasantly surprised for many reasons. 
These luxurious, eco-friendly products are launching this month at Scottsdale salons. What's interesting about the line is the shampoo and conditioner are entirely organic with ingredients sourced from the Amazon Rainforest. And the product comes in totally reusable bottles with a patented air-powered technology that delivers the shampoo and conditioner in a mousse-like consistency.  You can take the bottles back to the salon and the bottles are sent back to the manufacturer where they are refilled. A totally non-wasteful and definitely eco-friendly approach to the bottle use. 
It sounds odd, and it is a bit, but it was definitely surprisingly cool. The mousse-like shampoo/conditioner actually ends up yielding twice the amount of product. When I first used in the shower, the consistency was odd. You add a bit of water and the shampoo perks up into foam. And, I have to tell you, the citrusy smell is amazing. 
The Prive Concept Vert Rejuvenating Shampoo and Prive Concept Vert Rejuvenating Conditioner are sulfate- and paraben-free. They are also free of gluten, DEA, TEA, mineral oil, PABA, artificial coloring, phalalates and paraffin, ingredients common in most shampoos and conditioners. 
The formula is great for all hair types and is color-safe too. The products feature Amazon acai and Babassu oil that rejuvenates the hair with antioxidants and strengthens it too. 
You can get Prive Concept Vert products starting this month at the following salons:
Asana Salon
7306 East Sixth Avenue
Scottsdale, AZ 85251
Canyon Falls Spa & Salon- Scottsdale
14891 Northsight Blvd. Suite #121
Scottsdale, AZ 85260
Plush Hair Salon
9619 N. Hayden RD.
Scottsdale, AZ 85258
Joseph Scott Salon
3233 E. Indian Schoot Rd.
Phoenix, AZ 85018
Salon Shalom
4647 E. Chandler Blvd.
Phoenix, AZ 85048
Scissors Rox Paper
4727 E Cactus Road
Phoenix, AZ 85260
Elizabeth Arden Red Door (Arizona Biltmore)
2472 E. Camelback Road
Phoenix, AZ 85016
Elizabeth Arden @ The Wigwam Golf Resort & Spa
195 Old Litchfield Road
Litchfield Park, AZ 85340
Adorn Style Lounge
160 W. Main St.
Mesa, AZ 85201
Salon Michele Rene
19420 N 59th Avenue
Glendale, AZ 85308
XS Salon & Spa
2730 S. Val Vista Drive
Gilbert, AZ 85296
www.priveproducts.com