I distinctly remember my first introduction to NARS cosmetics back in the nineties, I had stopped into Barneys to find a few new gems for my makeup kit and came across those twelve perfect lipstick colors. I just had to have them!
Francois was already one of the world's top makeup artists whose work appeared in the pages of Allure regularly alongside Kevyn Aucoin and in Vogue alongside Dick Page. But strangely critics didn't expect his products to be all that wearable; you see NARS was known for lots of color at a time when simple clean makeup was all the rage. Of course his genius and vision put that to rest the moment he launched the full line… which today boasts over 400 products.
If you're anything like me, you not only appreciate his incredible products but François Nars' incredible artistry as well—he is after all still at the top of the game even after taking a foray into photography and temporarily putting down his makeup brushes for a spell. Now Nars' has taken another step into genius with his new book Makeup Your Mind: Express Yourself and its companion website.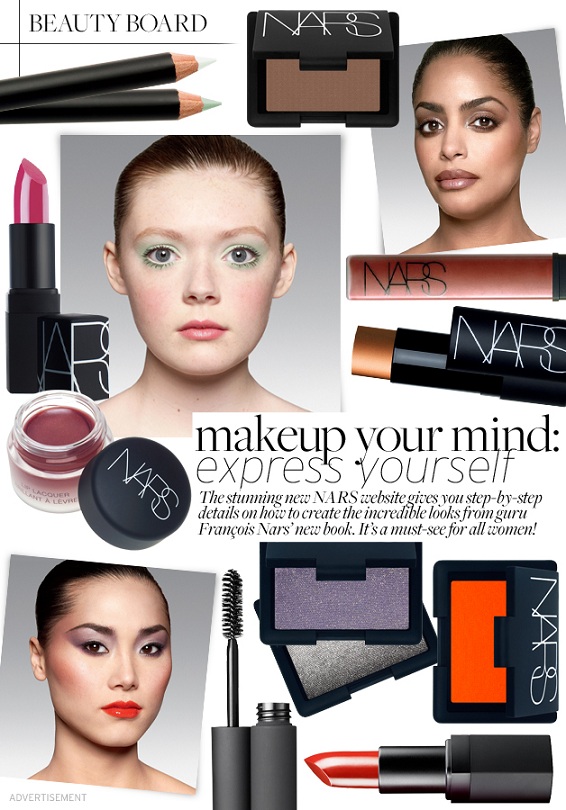 The book itself is a veritable masterpiece but the site is ingenious. The site is already an absolute wealth of info with tips and trick galore and it's also a beauty game that encourages makeup creativity- so you can feel a little bit like Nars himself. You pick one of 12 looks from the book and re-create it yourself. You can then upload an image of your handiwork to the site, where fellow beauty junkies can view and vote on how well you executed the look. But they have even taken it a step further – the people who get the most votes will receive one of 13 prizes, including a once in a lifetime opportunity – a trip to New York City to join the NARS team backstage during Fashion Week! I mean really if that isn't the end all be all for an up and coming artist.

In fact one aspiring male makeup artist named Kale Teter has already recreated every look on the site. And though perhaps it's harder to gage the expertise of these looks on a more masculine face, you will be entertained nonetheless.
So whether you're curious about others work or ready to show off your face painting chops check out MakeupYourMind.com today. The game is running from now until August 31, 2011, but you can see who's winning thus far by simply visiting NARS' Facebook page.