I'm just back from a rainy Los Angeles weekend that apparently turned into a blustery rainy day here in Phoenix yesterday. I admit I am ready for a fully sunny day today. Not that I don't like the rain mind you but after spending the weekend with some of the most kind, generous and truly talented makeup artists in the industry I am beaming…. And I want my weather to feel the same way.  
After ten hours on Sunday of blissful makeup madness I caught a glimpse of my haggard looking self in the mirror, turned and blurted out to my photographer- a little bit of lip gloss can fix almost anything!  And really truer words at that moment could not have been found especially after a few minutes with AJ Crimson of Kissable Couture.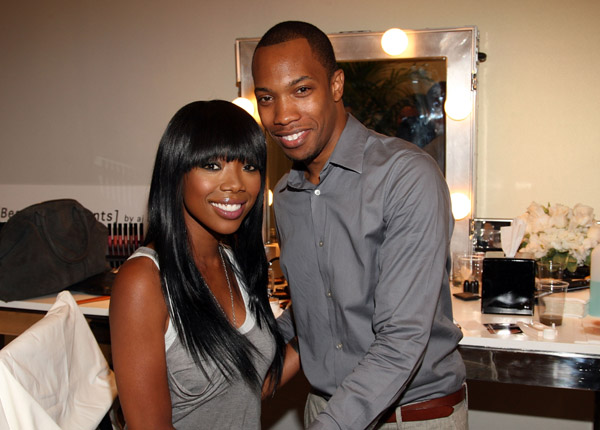 If you aren't familiar with AJ you should be.  This fabulous artist has worked his magic on the faces of Fergie, Brandy and Estelle to name a few. You know when the celebrities you work on only need one name…. You have to be good!  And what a way he has with those makeup brushes… Not to mention he is as delightful, handsome and charming as anyone can be… but aside from all of this he created a killer lip gloss line with Keisha Whitaker the stunningly beautiful former model and wife of Forest Whitaker.  
AJ and Keisha pretty much knocked it out of the park with the smooth as silk shimmery formulas.  These babies are not sticky and they taste the way a gloss should… I mean who wants to kiss lips that taste like icky chemicals? They have just the right amount of shine and don't feel like most of the glosses on the market. If you abhor those goopy glosses that inevitably leave your lips chalky and dried out as the day goes on then you will love the Kissable Couture formulas.
In fact I even saw the Brow King and Beauty Guru Damone Roberts checking out some of the latest shades for his own salon.  I highly recommend "Johnny" and "Chris" from the First Kiss Collection and "Peony" from the Le Fleur Collection for the perfect springtime shades as well as "Glamour" a pop of pink and "Fantasies" a cherry red for a more bold pout that will carry you through summer. But there are so many pretty shades from pinks to peaches, bronzes, plums and reds that you may want to snatch up several of them.
You can check them out at kissablecouture.com
Photos: Kissable Couture, The Makeup Show, mediaoutrage.com