Ladies, how much do you love, and I mean LOVE, ABC TV's "The Bachelor"? I wouldn't have spent my Valentine's night in any other way. If you missed it, Brad had a pretty sexy and drama-filled group date with Michelle, Chantal O. and Ashley on the coast of Anguilla. Each girl got a Sports Illustrated photo shoot! And the pics are now available to view online!
But that's not all, Sports Illustrated has revealed its 2011 cover model… It's 24-year-old Russian model Irina Shayk!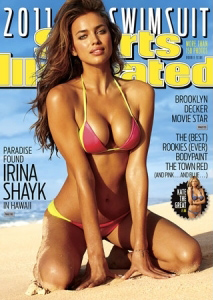 Things got hot, heavy and emotional in last night's beach-scene photo shoot on "The Bachelor". Aggressive Michelle asked Brad to join her in her photo shoot. The sexy pair proceeded to make out in the sand right in front of the cameras and the other two extremely jealous gals on the date. This sent Chantal O. and Ashley spiraling into tears. But little did they know, Brad was going to send Michelle packing after the rose ceremony anyway. Go figure.
Should Michelle have gone home or Chantal O.? I vote Chantal!
Although there were serious talks and tears, I'm sure the Sports Illustrated crew left happy. The girls looked amazing and all seemed very confident in front of the camera. See for yourself!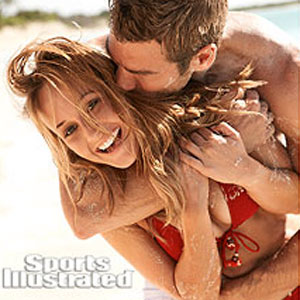 Brad and Ashley from "The Bachelor"
As for the lucky girl who will cover the new issue, Irina Shayk puts those drama queens to shame in her skimpy pink and yellow bikini.
You may recognize Irina from Kanye West's "Power" music video or from seeing her hand in hand with her beau and Portuguese soccer stud Cristiano Ronaldo.
Irina Shayk
David Letterman is probably the only male in the world who is P.O.ed about this cover. He was supposed to reveal Irina as the cover girl on tonight's "The Late Show with David Letterman" but it was leaked when Rana Wadlaw captured a pic of the Sports Illustrated billboard and posted it on Twitter, according to Celebuzz.
"I saw it from my office window," Rana tells the Huffington Post. "I work at a media agency called Starcom Worldwide. They unveiled the billboard for a few minutes to tape it for the Letterman Show and then covered it back up. I guess they didn't cover it fast enough!"
Irina Shayk will take the place of former Sports Illustrated cover girl Brooklyn Decker.
Photo Credit: Bjorn Iooss/Sports Illustrated; Raphael Mazzucco/Sports Illustrated.