Kate Moss' famed Galliano-designed wedding dress graces the cover of this September's Vogue, along with a whole slew of just released wedding photos. Moss' wedding to rocker beau Jamie Hince was a star-studded affair where the English countryside got a taste of the Roaring '20s at the couple's Great Gatsby-themed wedding.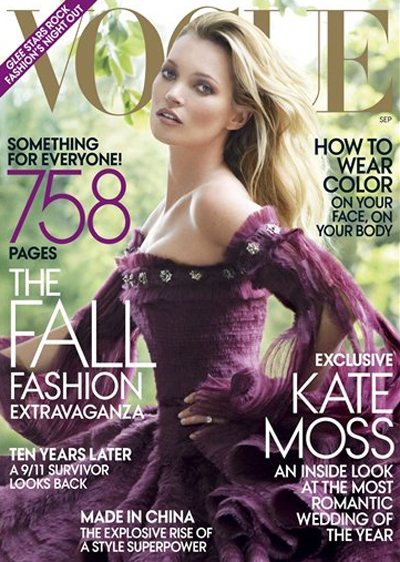 Moss on the cover of Vogue's September issue in her wedding dress
The supermodel and the Kills guitarist were wed July 1 In the Cotswolds, where the likes of Jude Law, Marc Jacobs, Paul McCartney and daughter Stella, among other celebs, celebrated with the couple at the 17th-century castle where the event was hosted. Longtime friend and famed fashion photographer Mario Testino captured the day, from the minor details, like the bushels of Scarlet & Violet roses, to Kate's every expression of joy on her big day.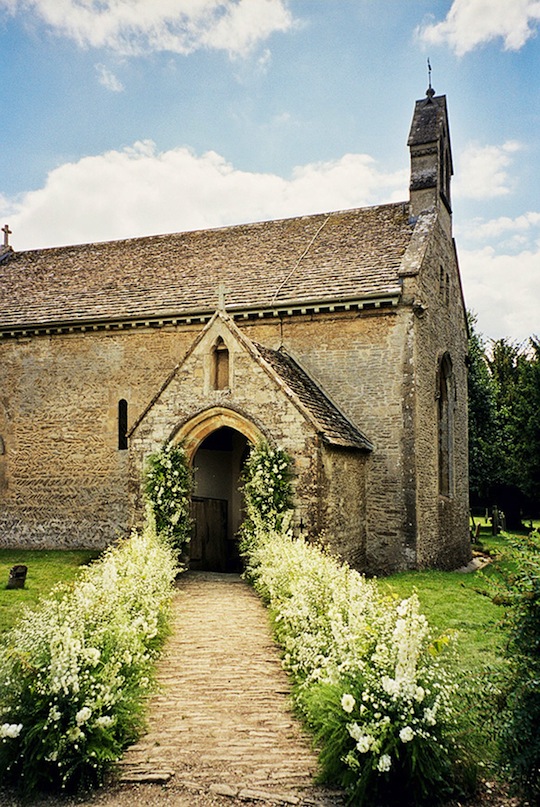 A path leading to the twelfth-century village church where the ceremony took place.
Moss and Hince, who announced their engagement in February, proceeded down a daisy-lined path from a charming old church.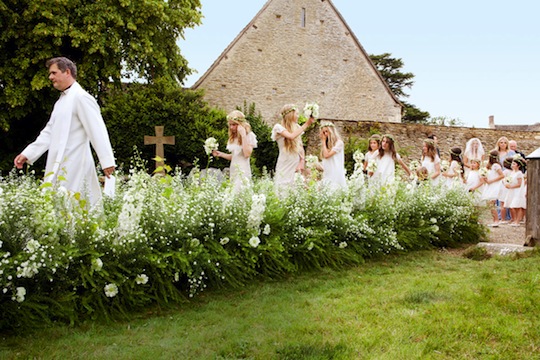 Sixteen bridesmaids and flower girls, including daughter Lila Grace, attended to Kate on her big day.  Frost, Stella McCartney and designer Vivienne Westwood were in the bridal party.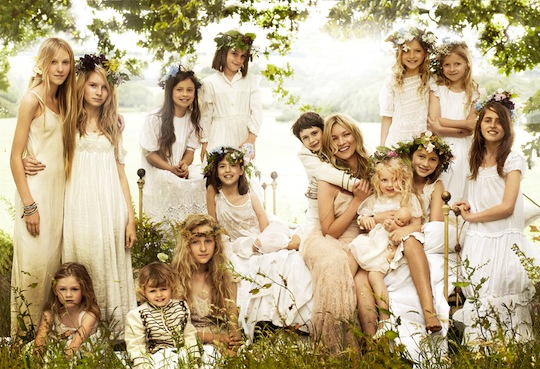 "She [Moss] was very professional and very demanding [about the dress]," says Galliano to Vogue.com. Inspired by Jazz Age photographs of Zelda Fitzgerald, Galliano sent a friend to a beloved vintage fair ("because I couldn't go"), who returned with "a beautiful rosary, which I thought must have been from a fallen angel," he said.
The dress is spangled with tiny golden paillettes. The skirts are symbolically licked with the beaded plumes of a mythical phoenix, "delicate and defiant, like Kate."
The exposed photos present a delightful representation of reality (it's Testino, after all). Enjoy and pretend it's your own with some more of Kate's wedding photos: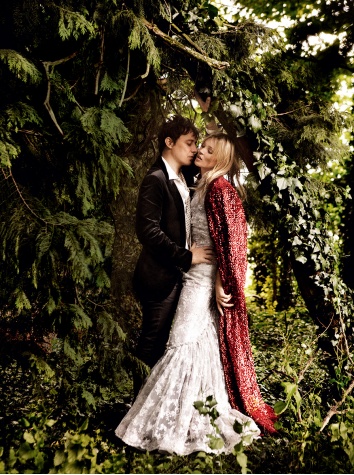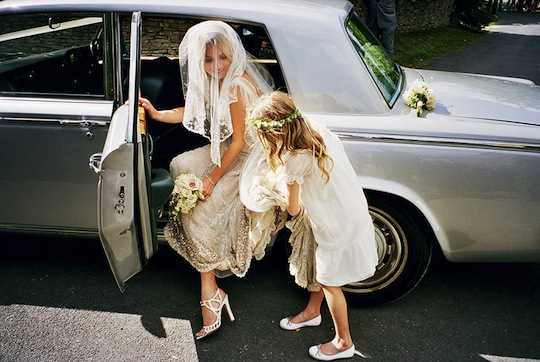 Daughter Lila Grace catches mom's train.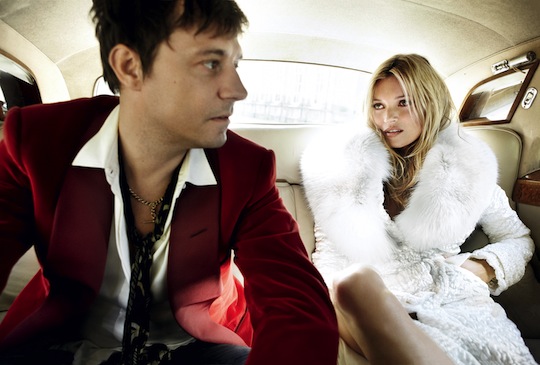 Jamie and Kate channel a modern-day Mick and Bianca Jagger, re-creating the couple's 1971 backseat wedding portrait by royal photographer Lord Lichfield.
Father of the bride, Peter Moss, with Kate and Lila Grace.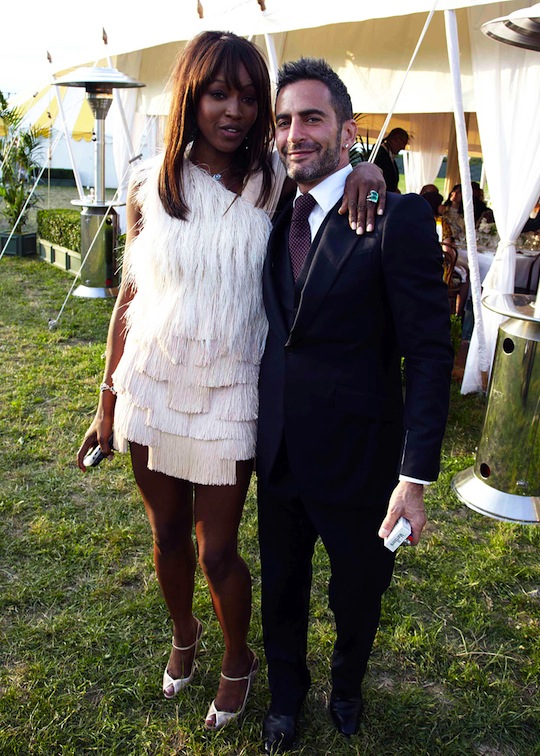 Naomi Campbell and Marc Jacobs.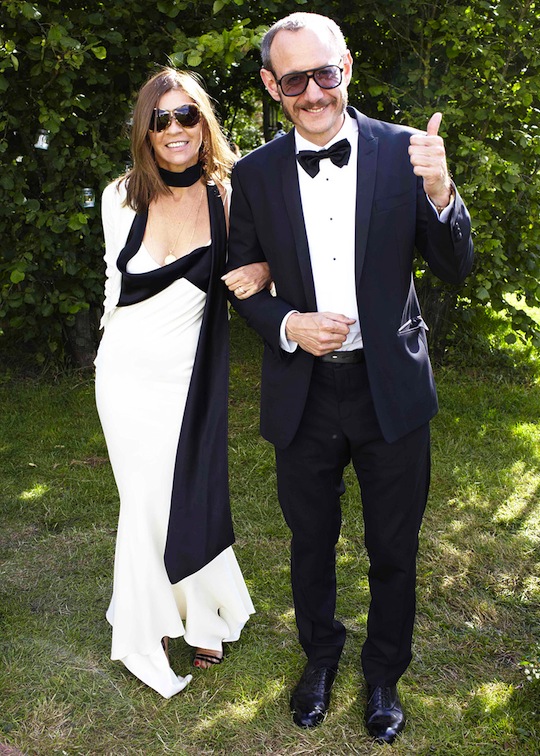 Carine Roitfeld and Terry Richardson.
Photos courtesy of Vogue.com.