Christmas and nature collide as two bright holiday events, Holiday Mountain and the Lighted Boat Parade, illuminate Val Vista Lakes in Gilbert.
Enjoy a holiday hike and picnic with the family and discover the "mountain" located behind the Val Vista Lakes Clubhouse just east of Val Vista Drive in Gilbert. From now until Dec. 27, the mountain will be decked out and shimmering with thousands of holiday lights that cast a magnificent reflection against the lake. As you meander through the pathways and take in the sights of the natural waterfalls and giant palm trees, you will be greeted with holiday music. Plus, hot cocoa, cider and cookies are available for purchase to further enhance the mountainous Christmas spirit.
Santa Claus also pays a visit every Friday evening at The Holiday Mountain, which is open to the public Friday through Sunday nights. Families and kids can have their photo taken with Santa and all guests are encouraged to bring a canned food donation for the local Paz De Cristo food bank.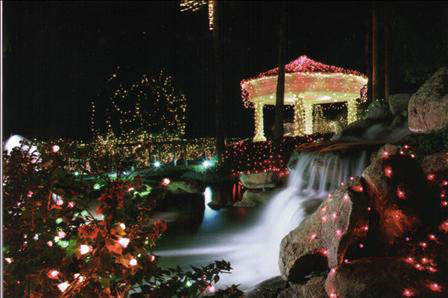 Although this holiday attraction is available for the rest of the month, be sure to mark your calendars for Val Vista Lakes Lighted Boat Parade on Dec. 19, which starts at 6:15 p.m. Homeowners decorate their boats and are often dressed up to reflect the boat's theme, which is never revealed to the public before the show, according to The Arizona Republic.
But don't just come to see a spectacular boat parade, bring your marshmallows and blankets because "How The Grinch Stole Christmas" will air on the grassy oval near the "beach" with dozens of fire pits!
Surprisingly, only a three-person staff installs the more than half a million lights each year. The hard working team began their efforts in September.
The 16-year-old tradition attracts at least 100 people each night, including tour buses and groups of seniors from retirement homes, according to The Arizona Republic.
Location: The Light Show is located behind the Val Vista Lakes Clubhouse at 1600 E. Lakeside Drive (in between Guadalupe and Baseline roads off Val Vista Drive.) Guests should park in the northwest corner of the parking lot, closest to the entry gate.
For more information visit valvistalakes.org.