Have you Heard about it? The new evening series called NU (Native + You) at the Heard Museum is a not-to miss event where visitors can discover this amazing museum, outdoor courtyards, Arcadia Farms Café, the Berlin Gallery and shop while enjoying great food, cash bars, a lounge, local bands, DJs and salons with contemporary artists. Best of all, admission to NU is free, thanks to JP Morgan Chase! The fun begins in February and continues on the third Friday of each month and runs from 5:30 to 9 p.m.
Musical performers, DJs, artist demonstrators, activities, special speakers, authors, dining and surprises are all a part of NU.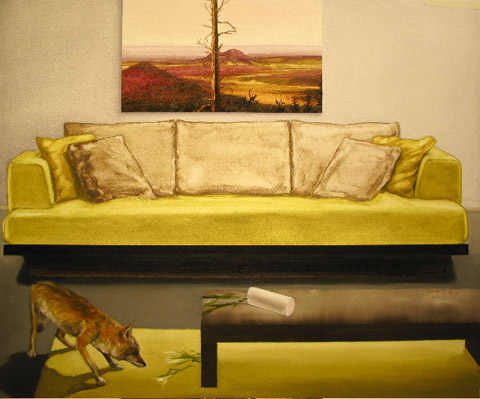 Work by Steven Yazzie, "Indigenous Interiors," oil on canvas
"NU (Native & You) will bring the Heard Museum alive during twelve evenings in 2009. The best of the Heard – education, celebrated Native artists, music, entertainment, food and fun combined in a spectacular Southwestern setting. Easy to access on Light Rail, ample parking, something for everyone, NU will sparkle with youthful energy and the best of the Southwest."
NU begins Friday, February 20, 2009, with the theme of The Best of Arizona. In the Crossroads Gallery, enjoy the sounds from local band Dear and the Headlights from Tempe and DJ Fienx, Navajo. Beer from local Arizona breweries including Four Peaks and Nimbus will be for sale in the outdoor cash bars. Early in the evening expert Philip Vandermeer will discuss the decline and rise of Central Phoenix in the Harnett Theater. At 7 p.m., contemporary artists Will Wilson and Steven Yazzie, both Navajo, will talk about their work in the Berlin Gallery, the Heard's contemporary retail art gallery.
NU is presented by JP Morgan Chase. Additional support comes from Desert Living Magazine as well as the following organizations: Arizona Humanities Council, Local First Arizona and the Phoenix Arts & Business Council. Patron information can be found at heard.org/nu.
*** Also, come experience the Heard Museum's 19th Annual World Championship Hoop Dance Contest on On February 7 and 8. Top American Indian and Canadian First Nation hoop dancers from the United States and Canada are set to compete for the prestigious title of world champion during a weekend of competition. These accomplished dancers will showcase their skills in amazing performances of the intertribal hoop dance. 
Since 1929, the Heard has educated visitors from around the world about the art and cultures of Native people of the Southwest. With almost 40,000 objects in its permanent collection, an education center and award-winning Shop and a café, the Heard remains committed to being a place of learning, discovery and unforgettable experiences.