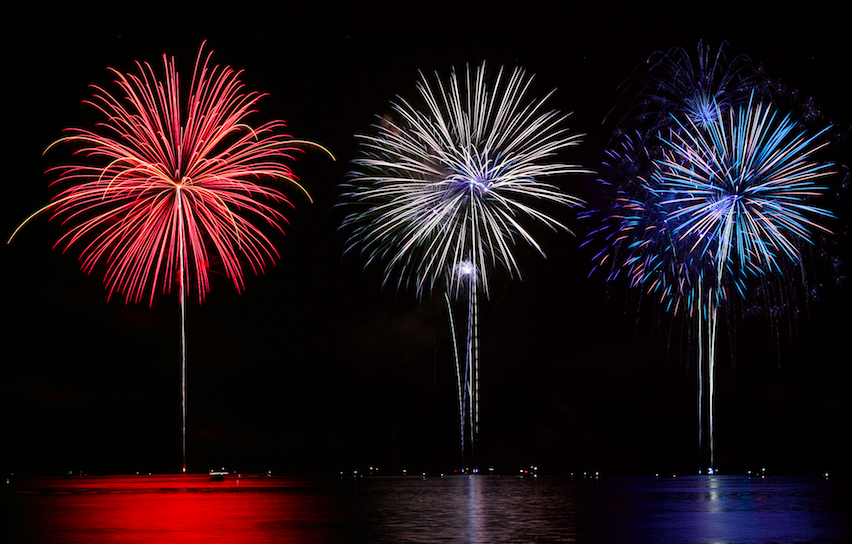 We can't think of a better way to spend the Fourth of July than at one of our favorite resorts, the Fairmont Scottsdale Princess. With the Fourth falling on a Saturday this year, there's no excuse to not celebrate. The weekend promises to be full of fireworks and warm sunshine. Lucky for you, the Fairmont is taking full advantage of the Holiday by offering up spectacular Fourth of July specials. This year marks the 5th annual "4th of July Freedom Fest," a two-day event with vintage air shows, concerts, fireworks, all-American fare, military tributes and poolside fun. Here's just a few exciting things you can look forward to experiencing.
Vintage Air Shows-Hang your head backwards as military aircraft used in WWII, Korea and Vietnam zoom overhead through the summer sky.
Concerts-Experience a variety of music throughout the weekend from a 70's disco band to a Grammy nominated children's musician. The concerts take place on the Lagoon Lawn and start and end the fireworks shows so you won't miss a thing.
Wet & Wild Events-Get your summer glow on at night! Techno Glo Pool Parties will be taking place at the Sonoran Splash Pool and will include waterslides, strobe lights, techno music and LED hula-hoopers. Don't miss out on the water balloon battles, zipper and splash rider x-treme either.
Fun & Games-Stuff your face in a watermelon-eating contest, get creative with tie-dye shirt making, or compete in a catch-and-release fishing derby.
Fireworks-No Fourth of July celebration is complete without lighting up the sky with some amazing fireworks. Sprawl out near the South Pool or the Lagoon Lawn and relish in the warm night air as the black sky above is illuminated with dazzling colors.
To view the full "Freedom Fest" brochure, click here and make sure to visit the Fairmont's website at www.scottsdaleprincess.com to book a room. The Fairmont is offering up vacation packages benefitting military families July 3-5. A percentage of all other packages booked during the Fourth of July Freedom Fest at the Princess will benefit the Snowball Express, Honor House and Friends of Freedom, all non-profit organizations dedicated to supporting veterans, active duty service members and their families.