Let's say you want to spend a day at the beach. You pack your sunscreen, your towel and a cooler for good measure. You coordinate with your friends on when and where, but when you arrive, the beach is packed with people, with no place to relax, let alone escape the sun if you forgot an umbrella.
What turned into a sunny nightmare could have easily been saved by Pacific Edge Hotels Bungalows. Set along Laguna Beach, The Pacific Edge Hotel features five newly remodeled Bungalows, each uniquely designed by a local company, including deck access and beach access that showcase each company's vision. Such companies included Billabong, Fox Head Inc., Hobie, Tuvalu, and Gorjana & Griffin. And while we wish we brought that umbrella or beach chair, these bungalows have it all.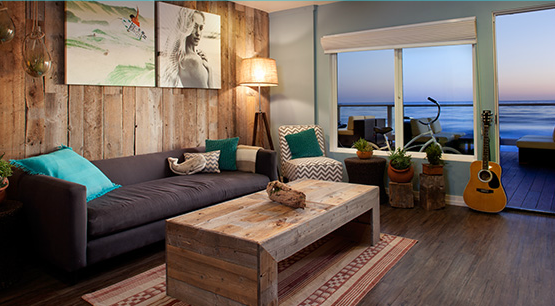 Bungalows include:
Fully private bungalow with keyed access from 11am to 8pm
Accommodates up to 10 guests per bungalow
Lounge chairs and day beds
Beach towels
Air conditioning
Flat screen televisions
Bottle service and food service
A Bungalow Girl at your service
Direct access from the deck to the beach
Beach Attendant to set up lounge chairs and umbrellas
Access to Pacific Edge's exclusive Edge Card, which gives guests discounts at local restaurants and shops
Ten percent discount on guest rooms at the Pacific Edge Hotel
(selected items on the Bungalow Services Menu must be ordered 48 hours in advance in order to guarantee availability. No outside food or beverage is allowed in the bungalows)

"These Bungalows are truly one of a kind," said Bill Tremper, General Manager of Pacific Edge Hotel on Laguna Beach. "Being right on the beach, with easy access to the surf, we wanted to give each of the Bungalows their own edge. The sponsors did that magnificently, pouring their heart and soul into the project, with the end result of giving each Bungalow their own unique vibe."
If you want to make a quick trip to that beach an overnight rendezvous, stay in one of The Pacific Edge Hotel's 125 guestrooms, with access to two heated swimming pools, a private Jacuzzi, set along 280 feet of beach property in downtown Laguna Beach.
To learn more and book a bungalow, visit www.pacificedgehotel.com