One thing I love about traveling is examining exquisite hotel rooms and private estates in order to implement their grandeur styles in to my own humble abode. One way for Phoenicians to gain decor inspirations for their own desert dwellings is to visit the numerous world-class resorts at our doorstep.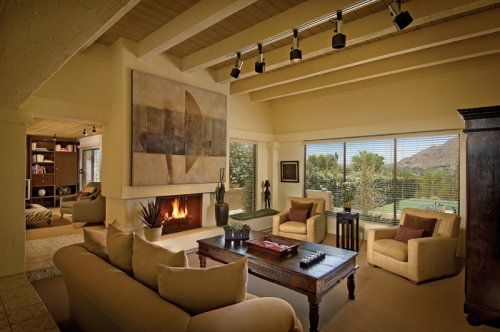 Sanctuary on Camelback Mountain is one of the Arizona's top luxury resorts. Sanctuary is a striking boutique property on Camelback Mountain in Paradise Valley, Arizona, just minutes from downtown Scottsdale and an ideal place to see a take on Arizona-style decor. Sanctuary on Camelback Mountain has an interesting and tempting offer for locals and visitors to get a up close and personal stay in its high-design Mountainside Estates at a 50% savings over their regular rate. Sanctuary's Summer Estate Escape offers homes starting at $750 per night through Sept. 13, 2009. The offer is also a great way to stay in and absorb the unique designs and decor of these overly elaborate digs.
With homes as large as 5,500 square feet, Sanctuary's estates come with every conceivable amenity including spacious living and dining areas, gourmet kitchens, lovely en suite bedrooms, private pools, and even game rooms. Each of Sanctuary's Mountainside Estates is architecturally distinctive and climbs the foothills of Camelback Mountain, providing stunning views of Paradise Valley below.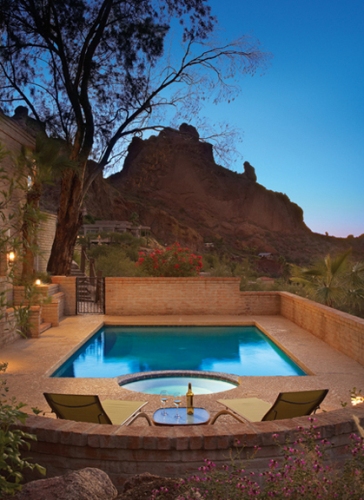 The four-bedroom Casa Montana, for example, features a billiard room and an outdoor pool with whirlpool spa that faces Camelback Mountain's famed "praying monk." Sanctuary's world-class facilities are a stone's throw away, including the award-winning Sanctuary Spa, fitness center with complimentary classes, tennis center, Arizona's largest infinity-edge pool and places to gather and dine including elements restaurant and jade bar.
To book the Summer Estate Escape special or preview Sanctuary's collection of Mountainside Estates, guests should visit www.SanctuaryAZ.com. Reservations can also be made by calling 800.245.2051.