It's so great when exceptional interior designers share their expertise with the masses. It's even better when local designers chime in on how desert dwellers can spice or spruce up their abodes. Jot down your interior design q's, a prime opportunity to get some answers is just on the horizon.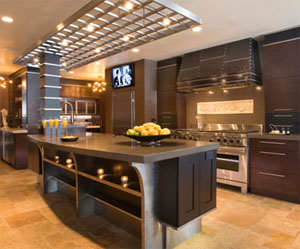 Elements of Design, a full-service, luxury residential and commercial interior design studio in Scottsdale, Arizona, recently announce that owner and lead interior designer Lina Quintero will be featured on a 30 minute talk radio segment on KFNX 1100 am. Filling a valuable time slot after The Dr. Laura Show and before The Lou Dobbs Show, on Tuesday, August 18th from 3:00pm – 3:30pm, Ms. Quintero is expected to discuss topics ranging from her design background at Elements of Design, trends in the interior design industry, and she will answer interior design related questions from call-in listeners.
 "To follow Dr. Laura and precede Lou Dobbs is an incredible opportunity to connect with a targeted group of interested listeners," Quintero says. "I look forward to providing helpful design tips that everyone can apply to their residential or commercial interior."
In addition to tuning in live on terrestrial radio KFNX 1100 am, listeners can hear the show via live streaming media on www.1100kfnx.com. Approximately 24 hours following the live feed, a web formatted version of the 30 minute segment will be available for download on the Elements of Design website.
Founded in 1992, Elements of Design is a full-service, residential interior design firm located in Scottsdale, Arizona. The studio, which caters to commercial interiors and high-end properties nationwide, features one of the largest showrooms in Arizona with an impressive inventory ranging from upholstered goods to accessories. It also provides an extensive line of environmentally friendly, eco-chic products and materials.
To learn more, visit www.elementsofdesign.com or 480.443.9646.