Fire alarms is a necessity that most people don't think about…until you need it.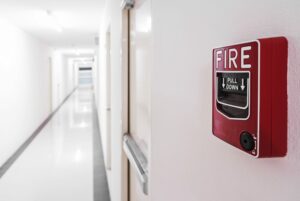 And, with temperatures rising, there is an increased risk of fire hazard throughout the home.
If you are using a window air conditioner to cool down your home, be careful that you're using it properly to avoid a potential fire. An estimated 2,300 residential air conditioning fires start each year. In order to prevent a fire caused by a window air conditioner, here are some important tips:
Try to always plug the air conditioner directly into the wall, not through an extension cord. Using an extension cord can overload the outlet. Additionally, extensions cords can fray or overheat if they are run under carpeting. If you must use an extension cord use one with at least 10-gauge wire and use the shortest cord possible.
Avoid plugging an air conditioner into the same outlet or circuit as other high-wattage appliances, such as refrigerators, ovens, microwaves, dishwashers, and irons. When plugged into an outlet with too many lights or other appliances, air conditioners can overload and overheat the circuit, melting and igniting the wire insulation.
Always make sure the unit is plugged into a three-prong outlet, and make sure the wiring in your house can handle the electricity used by the unit.
Don't wait to turn on the air conditioner until it's unbearably hot. Extremely high temperatures will cause the air conditioner not to run properly as the unit can't bring the temperature down sufficiently and the compressor will continue to cycle rather than shut off. This will cause heat to build up and eventually that causes the cord to burn out and a fire to start.
If you're using an oscillating fan or window fan the issues are similar – using an extension cord presents a serious fire hazard. Plug your fan directly into an outlet and be sure the cord is not running under a carpet or rug.
Sooner Alarms offers the latest in safety technology! Sooner is considered the 'safer alarm' because they work with fire safety experts to understand the problem and develop solutions that give people a new way to protect their homes and families. The result is their patented proximity sensor technology, a targeted approach that detects heat at the source of a fire, sending a wireless signal to a remote alarm that notifies you immediately—so you can limit property damage and get your family and pets out of harm's way. In addition, they give back by donating a portion of their profits to organizations that spread the word about fire safety and help survivors get back on their feet.
For more information on Sooner alarms, visit www.sooneralarms.com.