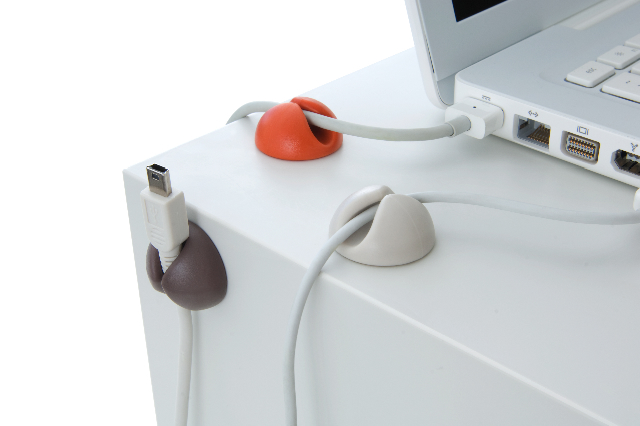 Here's one great new way to keep your cable in lines and your office looking neat and organized.
Bluelounge, the Pasadena-based design studio known for popular cable management devices such as Cableyoyo, SpaceStation, CableBox and The Sanctuary, now introduces CableDrop: a colorful and easily adjustable cable clip that helps reconfigure one's desktop in a multitude of creative ways. Designed by emerging industrial designer Greg Fulco, the Bluelounge CableDrop can easily be fixed behind or onto any desktop or adjacent walls and furniture. CableDrop is offered in two different packs, either in muted colors (Off White, Rust, Warm Grey) or bright fun colors (Orange, Pink, Lime Green), at $9.95 US Dollars for a pack of six, and is available for purchase right away through www.bluelounge.com.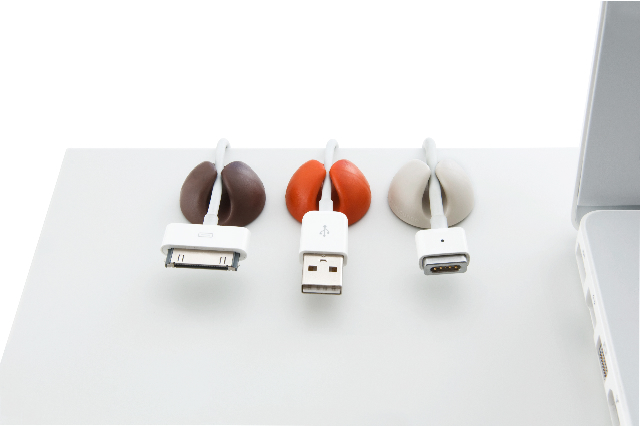 "Every morning when I unplugged my laptop, some of the cables would slide behind my desk and drop on the floor," said Greg Fulco, designer of CableDrop "When I returned home later, I would have to crawl under my desk and try to poke the cables up through the small space between the wall and the edge of my desktop. This was very frustrating so I designed the CableDrop to keep my cables in place in a fun way especially when unused!"
CableDrop comes in a dual color scheme presenting consumers with a functional and aesthetically pleasing product. The muted color set compliments and blends in with typical office & home furniture, while the bright lively color set allows one to make a personal statement! CableDrop's contours are smooth and natural, as though hand-sculpted.
CableDrop is made from Thermoplastic Polyurethane (TPU), which is nicely soft to the touch but firm enough to hold cables securely in place. A durable peel-off adhesive on the back of each CableDrop means it can be applied to any desired vertical or horizontal surface.