We've all heard of (and maybe even have in our home) those uber-efficient toilets that reduce the amount of water wasted per flush. Now, Brondell is prepping to release and showcase their ultra eco-sensitive device that will save 50 percent more water without having to invest in a completely new john.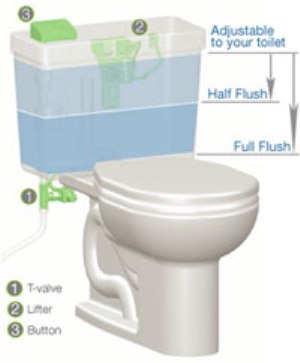 When 14,000 environmental thought leaders convene at the annual West Coast Green conference in San Francisco from October 1st to 3rd, attendees will be able to witness firsthand Brondell's newly launched Perfect Flush water saving technology.
First discovered at the event's Innovation Pipeline exhibit in 2008, the Perfect Flush is an eco-friendly dual flush toilet upgrade that cuts toilet water usage by up to 50 percent with the simple touch of a button. The system promises all the water-saving perks of a dual flush system without having to invest the money, time and energy to buy and install an entirely new toilet. The Innovation Pipeline serves as the launch pad for emerging breakthroughs in building, design and technology, this signature exhibit reveals a glimpse into the future.
This year, that future is now, as the product is available to consumers and retailing for just $99.00. To celebrate, Brondell is sponsoring a Perfect Flush Giveaway. Throughout the duration of West Coast Green, the company will give away one Perfect Flush every hour to help reduce the billions of gallons of drinkable water Americans flush down the toilet every day.
The EPA expects 36 U.S. States will experience water shortages in the next five years. Perfect Flush is the easiest, most effective way to save water. Perfect Flush uses advanced dual flush technology to make your toilet ultra efficient without loss of flushing performance. With Perfect Flush, you choose half or full flush with the touch of a button to deliver the precise amount of water for each flush.
Running concurrently with the West Coast Green Conference, Brondell will also be holding a Perfect Flush launch event at San Francisco's Hotel Griffon, which has just retrofitted all of its toilets with the technology. Within driving distance of the conference, the launch event is open to West Coat Green attendees, media and politicians.
The Perfect Flush will be available in the SF Bay Area at Cole Hardware stores, Palo Alto Ace Hardware, and Sonoma Kitchen & Bath as well as online with eco-conscious & major retailers Greenhome.com, Amazon.com, and Lowes.com. To learn more, visit   www.brondell.com.