Bare walls are so bland. That's why I am glad companies like Graham & Brown (known for their creative wall applications) create products that spice up a room's style with wall art.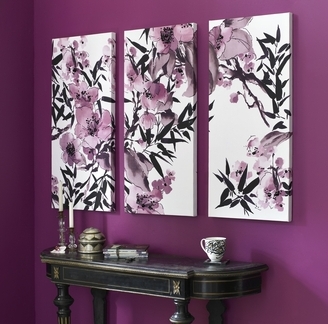 To kick off the New Year, designer wallpaper retailer Graham & Brown welcomes another line of interior fashion from industry leader Monsoon.
UK based fashion and clothing retailer, Monsoon, has always prided themselves on their individuality and that little 'something' extra that makes their look so distinctive. The company's previous designer wallpaper collection with Graham & Brown was so successful, that for 2010 they have expanded into a capsule collection of decorative wall art!
Using a mix of techniques and finishes Monsoon and Graham & Brown have developed five eclectic designs that are perfectly aligned with this year's interior trends. The five new canvases are:
Peony a beautiful large scale printed canvas. The artistic watercolor style of the flower gives the look of a hand-painted canvas without the expense
Tia is a beautifully exotic geometric design crafted from gold metallic printing atop a black linen canvas. The design is embellished with gold sequins and gives a striking look to any room.
Lhasa Lotus in Chocolate is a beautiful ornate design created from gold metallic printing and strategically embellished with gold sequins. The chocolate colored linen canvas gives a sophisticated contrast.
Lhasa Lotus in Teal is the perfect match for Lhasa Lotus in chocolate. Also created from gold metallic printing and embellished with gold sequins, these canvases can be hung separately, or for a statement look, hang them together. These canvases look great hung vertically or horizontally too!
Kyoto Cherry Blossom is a printed three piece panel canvas embellished with various sizes of black jewels, giving a touch of rocker-glam to an otherwise feminine piece. The trendy black and pink color pallet combined with the edgy black jewels makes for the perfect statement piece in any room.
Graham & Brown is a widely acclaimed wall decoration company involved in offering creative solutions for decorating homes, offices, restaurants, hotels, etc. Headquartered in Blackburn England, it has its offices in countries all over the world, from the US, Canada, Russia and Holland to France, Poland and China.
To learn more about Graham & Brown and its services, visit www.grahambrown.com.